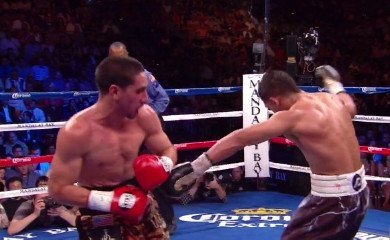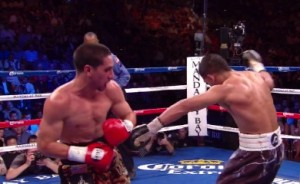 By Jeff Sorby: Former IBF/WBA light welterweight champion Amir Khan (27-3, 19 KO's) will be facing Julio Diaz (40-7-1, 29 KO's) on April 27th as the co-feature for the Zab Judah vs. Danny Garcia fight in a split-site card on Showtime, according to RingTV. Golden Boy Promotions CEO Richard Schaefer came up with the idea to increase the strength of the two fights put lumping them together.
The Khan-Diaz fight will be tape delayed from the Motorpoint Arena, Sheffield, Yorkshire, United Kingdom. That fight will take place earlier in the day U.S time, but be then televised later in the evening on Saturday night in the U.S on Showtime. The Judah-Garcia fight will take place at the Barclays Center in Brooklyn, New York.
Schaefer is pretty excited about the Diaz-Khan fight, saying to RingTV "Amir Khan is going against a rejuvenated Julio Diaz who had a tremendous performance against Shawn Porter. Julio wants it and he's hungry. He's definitely going to test Amir Khan."
Diaz, 33, isn't ranked in the top 15 at 147. His draw with Porter was his best performance in many years, and if he can fight like that against Khan then maybe he could pull off an upset. It's too bad that Schaefer couldn't wait until Diaz put in another good performance against a contender before putting him in with Khan because Diaz hasn't looked good in losses to Kendall Holt and Victor Cayo. Do you ignore those defeats and focus on just his draw against Porter in evaluating his worthiness for a Khan fight?
Another question is why isn't Schaefer putting Khan in with a better fighter than Diaz? Khan just had an easy fight against lightweight Carlos Molina, who also isn't ranked in the top 15. Why isn't Schaefer matching Khan against a top light welterweight contender like Ajose Olusegun? He asked for the fight specifically, but instead we're seeing Khan fighting a non-top 15 ranked welterweight, who has had little success in the past seven years of his career.