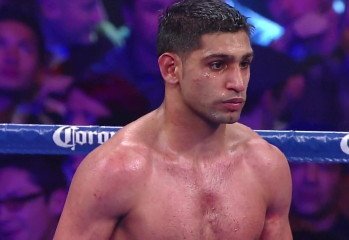 Amir Khan bristled at the recent news that Floyd Mayweather Jr said that he's not worth fighting because his name doesn't hold value in the United States because the casual boxing fans have no clue who Khan is. Khan feels that he's more popular than two of Mayweather's past opponents Victor Ortiz and Robert Guerrero. Khan also says that he's got a large following in India and Pakistan, and if Mayweather wants to be a global star then he needs to fight him.
I'm not sure that Mayweather cares if Khan has tons of fans in India and Pakistan though, because Mayweather is mainly looking for opponents that are big stars in the United States. That's where the pay-per-view buys will be coming from, not India or Pakistan.
"If Mayweather wants to be a global star, he has to fight someone who has a big following in other countries, like myself like in Pakistan and India," Khan said to Fighthype.com. "But if Floyd still says I'm not a big name, I promise Floyd one thing. Come to England, I'll show you how big I am."
Khan thinks that a fight between him and Mayweather would sell out Wembley Stadium. The Stadium has a seating capacity of 90,000. There's just one problem with that. Mayweather would likely never agree to fight Khan in the UK. Why would Mayweather give Khan, a non-title holder and the B-side of the equation, the home advantage? Besides that, Mayweather has an excellent relationship with the MGM Grand in Las Vegas, Nevada, and he's likely not going to fight away from that venue to give Khan an advantage.
Mayweather says he wants Manny Pacquiao for his next fight on May 2nd, not Khan. The way that Mayweather talked about Khan, one gets the picture that he's not going to bother fighting Khan, period. Even if the Pacquiao fight fails to take place, Mayweather sounds as if he'll be looking to go in another direction against a more popular fighter for his next fight. Mayweather would be looking for someone that is recognized by American boxing fans, and who has a fan base in the U.S that can purchase the fights.
With Khan's fan base in India, Pakistan and the UK, Khan wouldn't be able to contribute much in the way of U.S pay-per-view. For that reason Mayweather would probably exclude Khan as one of the candidates for his next fight. Mayweather would do well if he were to face someone like Danny Garcia. He has a large fan base in the U.S and it would be a fight that fans would be interested in seeing.