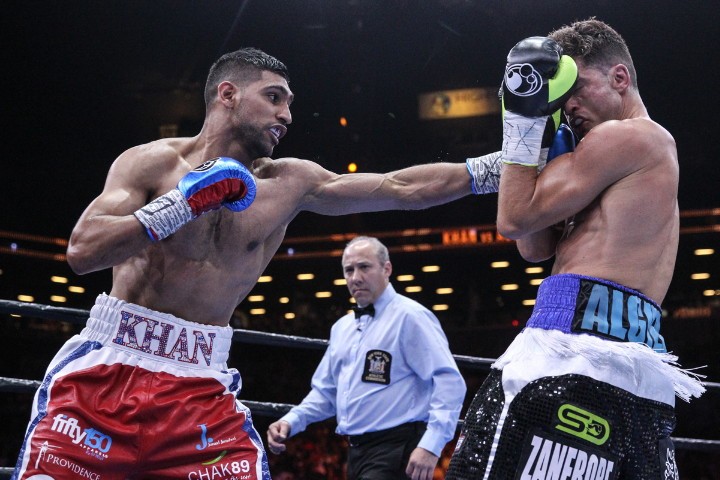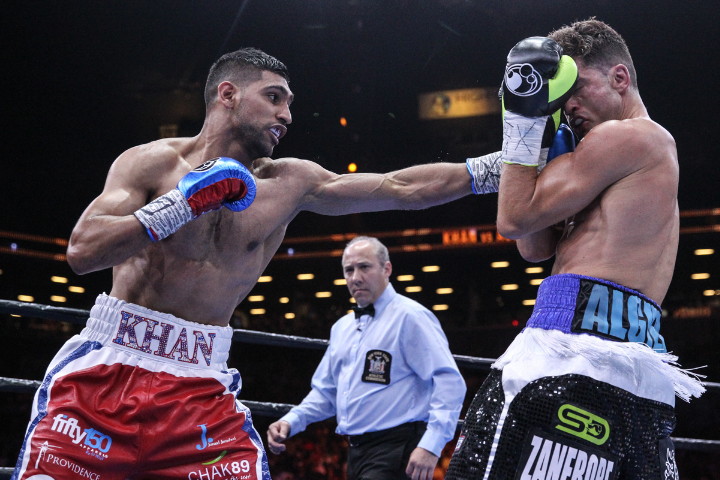 (Photo credit: Lucas Noonan/Premier Boxing Champions) Amir Khan (31-3, 19 KOs) needed a great performance tonight to potentially earn a fight against Floyd Mayweather Jr., but I'm not sure that we saw that with Khan's 12 round unanimous decision victory against Chris Algieri (20-2, 8 KOs) at the Barclays Center in Brooklyn, New York.
Khan won most of the first six rounds, but Algieri came on strong in the second half of the fight in nailing the British fighter with bone-jarring shots to the head and body. Khan did a good job of holding any chance he could get, and this seemed to slow Algieri down, especially in the 11th and 12th rounds.
Khan was near helpless to Algieri's lead right hands. The American was able to land that punch frequently, and Khan was powerless to stop it for some reason. In between rounds, Khan's trainer Virgil Hunter constantly scolded him, showing his unhappiness with the way that Khan was fighting. Hunter wanted Khan to stand still longer so that he could make it entertaining and show the judges who was boss, but Khan was frequently fleeing the battle. Khan was effectively treating Algieri like he was a knockout threat, even though he didn't have much power. But the power that he did have had Khan plenty worried and not wanting to stand directly in front of him.
The judges' scores the fight 115-113, 117-111 and 117-111. The first score of 115-113 seemed to be the more accurate score for the fight rather than the other two. Khan clearly won the fight, but it was very close. Algieri was the far better fighter in the second half of the fight when Khan started to fade, and take shots.
Khan won the fight based on being the busier fighter, landing a lot of fast combinations, and tying Algieri up on a constant basis to keep him from getting his shots off.
The question is did Khan put in a good enough performance to earn a fight against Floyd Mayweather Jr. in September. Khan picked out ALgieri because he wanted to show the difference between him and Manny Pacquiao. We saw tonight that there is a big difference between Khan and the Filipino fighter. While Pacquiao easily beat Algieri by a 12 round unanimous decision in knocking him down six times last November, Khan had a really tough time in a fight that can be described as a life and death affair for the British fighter. Khan won the fight, but it was a lot closer than the 117-111 score that two judges gave him. It clearly wasn't the type of performance that we saw from Pacquiao. As such, we can only conclude that Khan doesn't deserve a fight against Mayweather yet. If Khan can beat someone like Keith Thurman, then you can make an argument that he deserves a fight against Mayweather. With the way Khan fought tonight, he fought well enough to earn a fight against someone like Kell Brook or Tim Bradley, but definitely not Mayweather.
Other action on the card:
Javier Fortuna UD 12 Bryan Vasquez
Marcus Browne UD 10 Cornelius White
Keith Tapia KO 8 Leo Pla
Heather Hardy SD 8 Noemi Bosques
Chris Colbert TKO 2 Marquis Pierce
Wesley Ferrer MD 6 Jose Miguel Castro