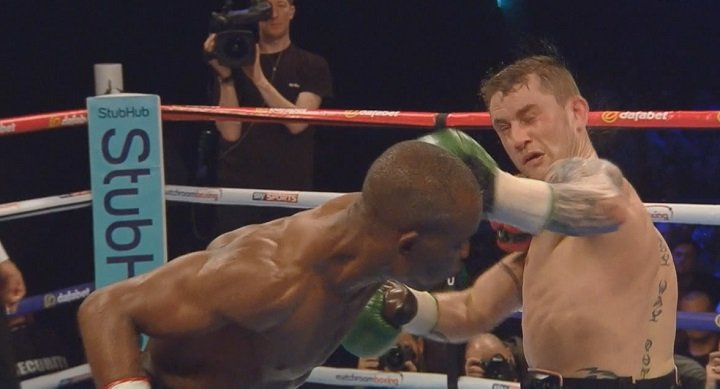 Tall, clever and possessing attention-grabbing punch power, Julius Indongo proved last night that he is no one-hit wonder. The southpaw from Namibia burst onto the big stage in Russia in December, when he shocked defending IBF 140 pound champ Eduard Troyanovsky in a round, and last night he comprehensively outboxed Scottish hero and defending WBA champ Ricky Burns to become a two-belt holder (actually three belts, the IBO strap also his).
Now 22-1(11) the 5'11" Indongo could go on to become the main man at 140. With his awkward style (Burns, "devastated" by last night's loss, just could not get to grips with Indongo, saying after the fight that he had no idea how awkward he would be), his long arms, his speed and his good boxing brain, the man known as "Blue Machine" just might give the likes of Terence Crawford and Adrien Broner all the trouble they can handle.
Okay, plenty of fans will need further convincing of Indongo's world class ability; pointing out that he blew Troyanovsky away before a real fight could start, and how Burns has been past his best for some time now. But Indongo, at age 34, might be the man to beat at 140.
Crawford has expressed real interest in fighting him, and Broner was supposedly all but set to have boxed Burns if the Scot had won last night. Maybe Indongo can now take Burns' place (if Broner can still effectively make the 140 weight limit). Either way, the IBF/WBA/IBO champ is now in a great position and the big, big fights have certainly be earned.
As for the vanquished Burns, though he was all but shut-out last night (forget that crazy 116-112 card; this fight was wholly one-sided) and though he has now lost six times during his long and hard 16 year pro career, the 34 year old defiantly vowed to come back once again. Burns has rejuvenated his once seemingly finished career in quite heroic fashion before, but it will be an incredibly hard road back this time.