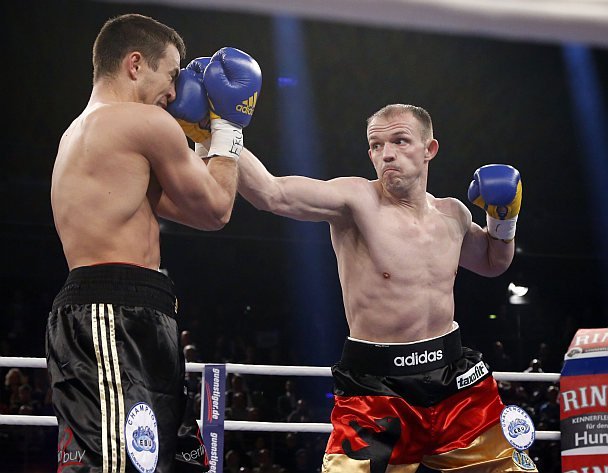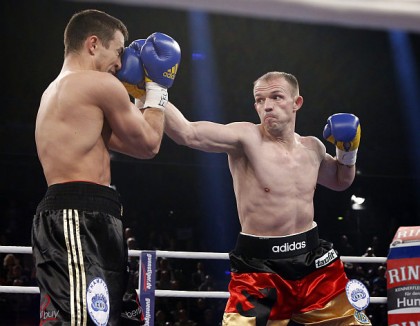 Fighting a needless rematch, WBA (regular) light heavyweight champion Juergen Braehmer (48-2, 35 KOs) once again beat Eduard Gutknecht (29-4-1, 12 KOs) by a 12 round unanimous decision tonight in their rematch at the Jahnsportforum in Neubrandenburg, Germany. Just like their first fight three years ago, Braehmer was much too good for the slower, weaker and less skilled 33-year-old Gutknecht.
The judges scored the fight 116-111, 116-111 and 118-110. Gutknecht would have had a chance to win the fight if he had some punching power, but he's just a super middleweight and not a light heavyweight. It was great match-making by Braehmer's promoter to put him in with a super middleweight instead of a light heavyweight.
However, it looks bad when your promoter start selecting fighters from the weight divisions below you instead of your weight division. Given Gutknecht's lack of punching power needed to compete in this fight, it turned out to be a one-sided fight with the southpaw Braehmer nailing the weaker Gutknecht all night long.
I can't wait to see who Braehmer fights next. Will it be another super middleweight or will he face someone from his own weight class? What we don't need is endless rematches. It would be disappointing if we see Braehmer matched against some more retread opponents like Robin Krasniq, Konni Konrad or Pawel Glazewski.
The World Boxing Association has made it confusing by having two to three world champions in some of their weight classes. Braehmer is the WBA World light heavyweight champion, while Sergey Kovalev is the WBA Super World light heavyweight champion. It sure would be nice if the WBA would get with it and just have one WBA champion in each weight class.
Ideally, I'd like to see Braehmer fight Kovalev. I'm not holding my breath waiting for that to happen. I imagine the day the WBA orders Braehmer to fight Kovalev will be the day Braehmer bins his title. I can't see Braehmer ever fighting Kovalev. I think he would have to be dragged into the ring to fight Kovalev, and even then, I think there would have to security standing by to make sure Braehmer doesn't leap out of the ring to escape what would likely be a real beat down. I joke. But seriously, I think Braehmer would vacate in a second if the WBA tried to order him to fight Kovalev, Adonis Stevenson, Artur Beterbiev, Andrzej Fonfara, Sullivan Barrera or Eleider Alvarez. Those guys are just too dangerous for the likes of Braehmer in my view.