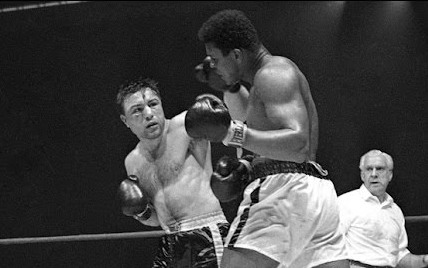 This March 29th marks the fiftieth anniversary of the Muhammad Ali-George Chuvalo world title fight. The fight, not widely expected beforehand to be too memorable – Ali, having trouble finding U.S venues willing to host his fights due to his political beliefs, only took on Chuvalo as a late replacement because he was also finding it tough getting the big fights – instead proved very interesting.
Ali, at his blinding peak, was sporting a 22-0 record and previous challengers, Sonny Liston (in a rematch of the fight where Ali became world champion) and former two-time king Floyd Patterson had been wiped out with relative ease. How would the rock-chinned 28-year-old Canadian fair against the man who called himself "The Greatest?" As things transpired, Chuvalo, then 34-11-2, would both extend and push Ali hard.
Today, as he gets ready to attend a testimonial dinner set for March 29th, Chuvalo looks back on the fight with pride. And, as he explained to The Globe and Mail in Canada, the articulate 78-year-old still feels he won the fight that went all 15-rounds that night at Maple Leaf Gardens.
"Well, I think I won every fight I fought," Chuvalo told Dan Ralph of the publication with a smile. "Boxing is a crazy way to make friends. Muhammad and I fought two tough fights (the 1972 rematch, a non-title fight, being won by Ali over 12-rounds) but we forged a friendship that can't be broken. I feel awful for him because I know he's in difficult shape – hopefully a miracle will happen and he'll bounce back."
Chuvalo, famously never once knocked off his feet in a 93-fight pro career, punished Ali to the body in the 50 year old fight, famously sending Ali to the hospital afterwards. One man who is a Chuvalo fan is former heavyweight king Lennox Lewis. Lewis who will, along with the promoter of Ali-Chuvalo, Bob Arum, attend the testimonial at the end of the month, also spoke with The Globe and Mail:
"It was great to know there's a man around that trained so hard, that had so much willpower and took fighting so seriously and gave the man they call "The Greatest" the hardest fight in his history," Lewis said. "The fact he's Canadian, we can look up to him and say, 'we want to be like him.' He took the fight with Ali in 17 days [notice]. It just shows his character and what a great man he is."
Chuvalo lost the 1966 fight with Ali by a considerable margin on the cards – 74-62, 74-63, 73-65 – but his career was given a major boost. Chuvalo would go on to face such big names as Oscar Bonavena, Joe Frazier, Buster Mathis, George Foreman, Jimmy Ellis and Ali again – none of these fighters managed to put George on the canvas.
Today when looking back, Chuvalo – an amazing physical specimen who looks much younger than his years and, despite the number of tough fights he engaged in, has full possession of all his faculties – smiles when reminiscing.
"I remember after the fight was over – I had a few bumps on the head but I never really got hit in the dangerous areas," Chuvalo said. "Like I always say, I kissed a few girls but I never kissed the canvas. I was lucky that way."
Luck (something George was sadly lacking in his retirement years, when drugs took the lives of his sons) might or might not have assisted Chuvalo in the ring, but his success was down more to his toughness, his conditioning and his underrated boxing skills that it was luck. Chuvalo, who perhaps would have pushed Ali even harder had he had more time to get ready for the biggest fight of his career, is rightfully rated today as one of the finest big men never to have become world champion.