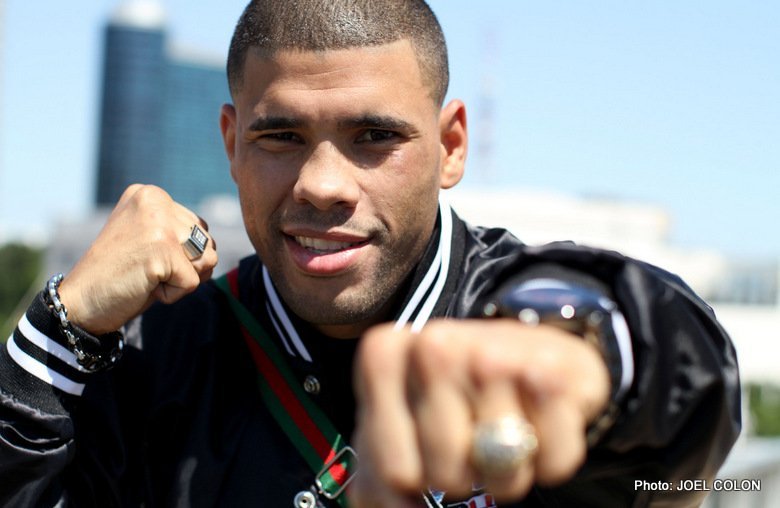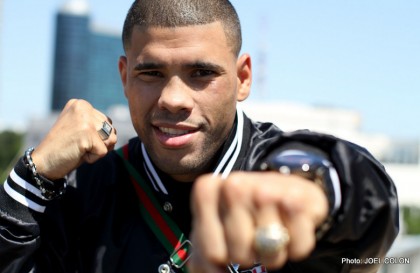 A very interesting and potentially explosive card is all set to go down in Puerto Rico on March 15th. Topping the bill will be light-welterweight champ Danny Garcia, defending his Ring Magazine and WBA/WBC 140-pound belts against tough Mexican Mauricio Herrera. Also on the card will be the heavyweight meeting between puncher Deontay Wilder and boxer Malik Scott.
Both these fights intrigue, yet the third fight confirmed for the card caught my eye. Remember back in the summer of 2008, when an unbeaten 25-year-old "Juanma" Lopez blasted onto the world stage with a bang in the form of a 1st-round KO over Mexico's Daniel Ponce De Leon? Lopez of Puerto Rico snatched the WBO super-bantamweight belt with the win and superstardom seemed to be in his future. Things didn't quite work out that way for the southpaw slugger, even if he did thrill millions of fans in his subsequent fights.
Now, some six years on, fellow lefty De Leon wants to avenge his crushing loss.
De Leon bounced back after the shocking loss to Lopez (his first stoppage defeat and only his second pro loss period) and after a move up to featherweight, and 2011 losses to Adrien Broner (in a close affair) and Yuriorkis Gamboa, De Leon managed to win a second world title: capturing the WBC featherweight crown with a TD victory over Jhonny Gonzlaez. Abner Mares took the belt in De Leon's first defence and he has won just one fight since then, yet the 33-year-old Mexican with the 45-5(35) record has looked a lot more durable and solid than has Lopez in recent months.
It all went spectacularly wrong for Lopez in April of 2011 when, having also moved up to win a belt at featherweight, he was stopped in dramatic fashion by the seasoned Orlando Salido. A forced layoff ensued (a result of Lopez being suspended for verbally attacking the referee of the Salido fight, who Juanma felt had acted inappropriately) before Lopez was beaten by Salido for a second time – this time around lasting two-rounds longer in being stopped in the 10th). His career in virtual tatters, the exciting yet terribly vulnerable banger nevertheless found himself challenging the unbeaten Mikey Garcia for his old WBO 126-pound strap in June of 2013. It was no fight from the start, with Lopez being done in in the 4th-round.
So now, when a number of experts are telling 30-year-old Lopez, 33-3(30) to retire for his own good, he finds himself with what may well be a winnable fight in the return with De Leon. This one looks like being of the short and sweet variety, that's for sure, and maybe it will prove to be a case of who hit's the target first wins.
Fans of violent, short slugfests may well be in luck come March 15th. Lopez may not have much of a chin these days – his beard never being all that reliable, even in his prime – yet De Leon might be carrying some bad memories from what happened to him all those years ago. De Leon will know how the same thing that happened to him in Atlantic City could happen to him all over again in Juanma's homeland. Lopez is still fast, he still carries his power and he has the confidence of knowing he crushed De Leon last time. Maybe it's just me, but I think this fight will be well worth watching; maybe even a mini-classic.
Who wins? Whoever lands a bomb first. Why do I think this will be the shop-worn/shot/ all done Lopez! There may not been too many options for the winner of this, the latest instalment of the long running Mexico Vs. Puerto Rico rivalry, but the action on display could be quite something.