Joe Smith Jr is ready to take on #3 WBO Maxim Vlasov (45-3, 26 KOs) this Saturday night on February 13th for the vacant WBO light heavyweight title in 'The Bubble' at the MGM Grand Garden Arena in Las Vegas, Nevada.
The start time for the telecast is at 10:00 p.m. ET/7:00 p.m. PT.
This will be the second time for Smith (26-3, 21 KOs) to be fighting for a world title. Two years ago, Smith was outclassed by WBA 175-lb champion Dimitry Bivol, losing a one-sided 12 round unanimous decision against the Russian fighter.
Smith's opponent, 34-year-old Vlasov, doesn't possess nearly the same kind of talent that Bivol, so it's a fight that Joe has an excellent chance of winning.
However, he's not likely to win by his customary route of victory, as Vlasov has got a rock-iron chin, and he's been in there with bigger punchers than Smith.
Vlasov has fought these powerful sluggers in the past:
Rakhim Chakhkiev
Olanrewaju Durodola
Krzysztof Glowacki
Ismayl Sillah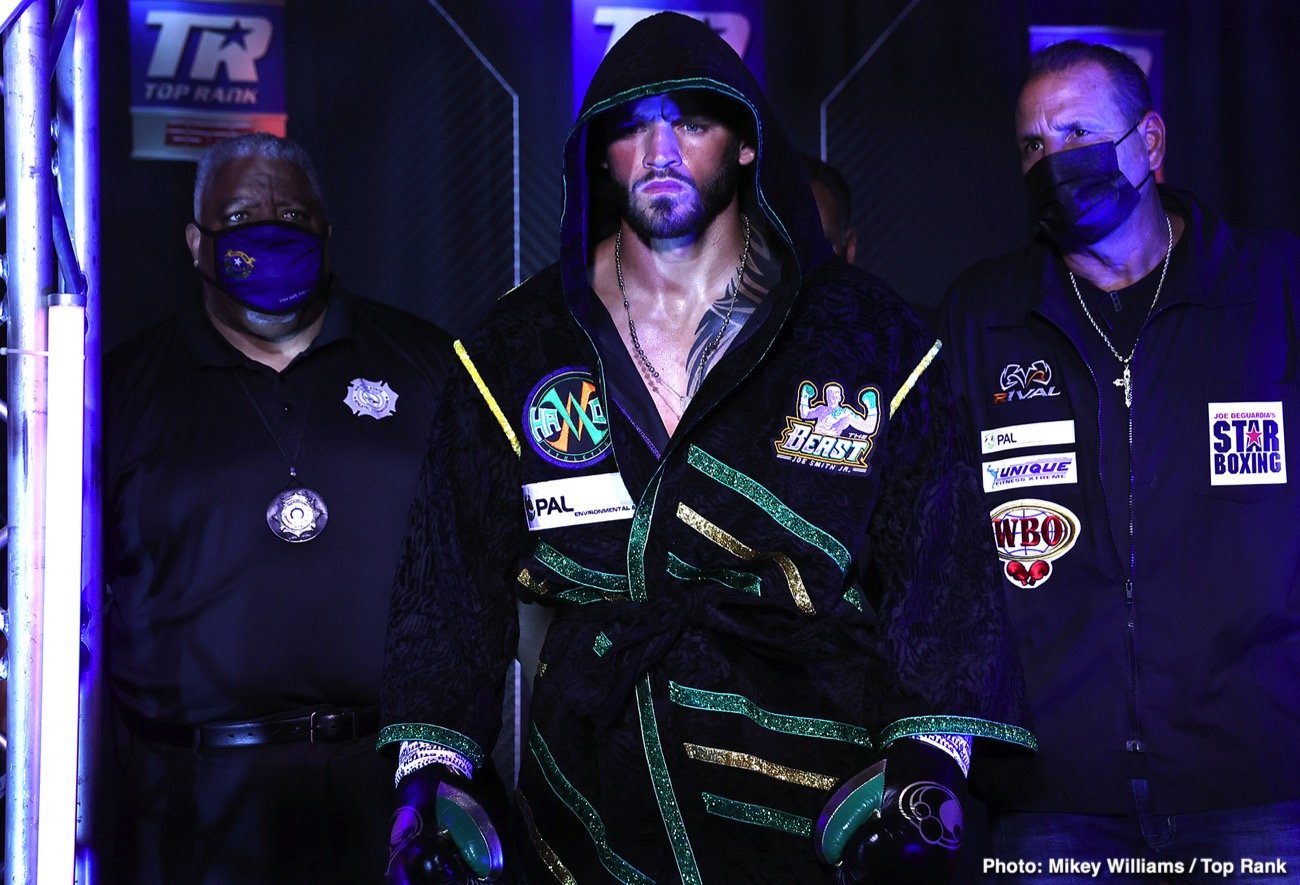 "I've watched a few of his fights, and as far as I see, he's a very durable guy," Joe Smith Jr. said about his opponent Maxim Vlasov during their news conference to discuss Saturday's fight on ESPN.
"Honestly. I like fighting bigger guys and taller guys. I'm going to do what I got to do. I'm going to stay busy, use my jab and work my way inside.
"He's got a lot of experience, and he seems like an all-around good fighter. He's got a good right hand. Compared to the other fighters I've fought, I'd say he's up there.
"I don't underestimate him and his skills. Like I say, he's got a lot of experience. We're just going to have to see what happens," said Smith.
There's no doubt that Vlasov has a TON of experience during his 16-year professional year, and that's even more reason for Smith not to go looking for a knockout.
Vlasov has fought at cruiserweight and light heavyweight, and he's accustomed to fighting guys with power. Smith will need to be able to box Vlasov if he's unable to knock him out the way he's hoping to do.
"I believe my last fight against [Eleider] Alvarez was one of my best performances," Smith said. "He's an elite-level guy, he was a former world champion, and I showed up and dominated him.
Joe Smith Jr wants Canelo Alvarez to fight
"Yeah, definitely, everything this title has to offer is motivating," Joe Smith Jr said when asked if winning the WBO light heavyweight title could open up the possibility of facing Canelo Alvarez.
"There's a lot of big fights out there if I get the belt. I'm really looking forward to becoming WBO world champion so I can get the big fights.
"I don't always go in looking for the knockout, but in this fight, I'm going in with everything I've got.
"I'm going to give it my best, and if I can get him out of there, I'm definitely going to do that. I'm in the best shape of my life, physically and mentally prepared," said Smith.
**𝙘𝙡𝙚𝙖𝙧𝙨 𝙩𝙝𝙧𝙤𝙖𝙩 𝙗𝙚𝙛𝙤𝙧𝙚 𝙨𝙝𝙤𝙪𝙩𝙞𝙣𝙜 𝙞𝙩 𝙤𝙣 𝙩𝙝𝙞𝙨 𝙘𝙝𝙖𝙣𝙣𝙚𝙡 𝙛𝙤𝙧 𝙩𝙝𝙚 𝙛𝙞𝙧𝙨𝙩 𝙩𝙞𝙢𝙚 𝙩𝙝𝙞𝙨 𝙮𝙚𝙖𝙧**

🗣 FIGHT WEEK IS HERE! A banger, with a strap on the line, too.#SmithVlasov | SATURDAY | ESPN pic.twitter.com/GyvQ4bZ4jJ

— Top Rank Boxing (@trboxing) February 8, 2021
Canelo Alvarez has pretty much given up on the light heavyweight division after beating the shot to pieces Sergey Kovalev in 2019.
It's reasonable to assume that Canelo will never return to the 175-lb division unless he sees another vulnerable champion in the weight class. Smith is fighting at too high of a level for Canelo to go after him.