Keith 'One Time' Thurman is still hoping to get the fight against IBF/WBC welterweight champion Errol Spence, and he's not giving up on the idea despite hearing him talk down on the idea.
Thurman (29-1, 22 KOs) feels that a fight between him and Spence (27-0, 21 KOs) is one of the biggest in the 147-lb division. 'One Time' is scheming in how to get the fight with Spence.
What Thurman is talking about doing now is stepping in front of Spence to take the fight with WBA welterweight champion Yordenis Ugas and then using the title to get the fight against him.
Spence has made it clear that he wants the WBA belt that the World Boxing Association recently gifted ugas after they stripped champion Manny Pacquiao.
The Filipino star didn't show any signs of defending the WBA belt in the time that he's had the strap since 2019.
Pacquiao was the one that Thurman wanted to fight to avenge his loss, but he's satisfied with his win and is looking at fighting arguably easier options.
Thurman critical of Spence
‌ ‌"Everybody already knows we had words earlier this year with the f*** Keith Thurman thing," said Spence to Thaboxingvoice. "I still say, how are you going to fight all the guys that I already beat, but you're not going to fight the guy that beat them?" said Spence about Errol.
"You want to try and outperform me by cooking up the ducks I already fried, but you ain't trying to fry me up. I still think it's one of the greatest fights in the welterweight division today.
"I think Thurman against everybody is one of the greatest fights in the welterweight division today. That's not because I love myself, even though I love myself.
"It's action, and it's competition, man. In sports, people still want to see the best against the best, and I still think I'm one of the best in the game today," said Thurman.
The only way Thurman is going to get a fight against Spence is if he beats WBA welterweight champion Yordenis Ugas or WBO champion Terence Crawford to win their titles.
Spence wants to become the undisputed champion at 147, which means Thurman needs to target a fight against Ugas or Crawford to win a belt.
'One Time' got too fat
"Definitely," said Thurman when asked if he's still a natural welterweight. "There have been years where I let my weight fluctuate a little too much.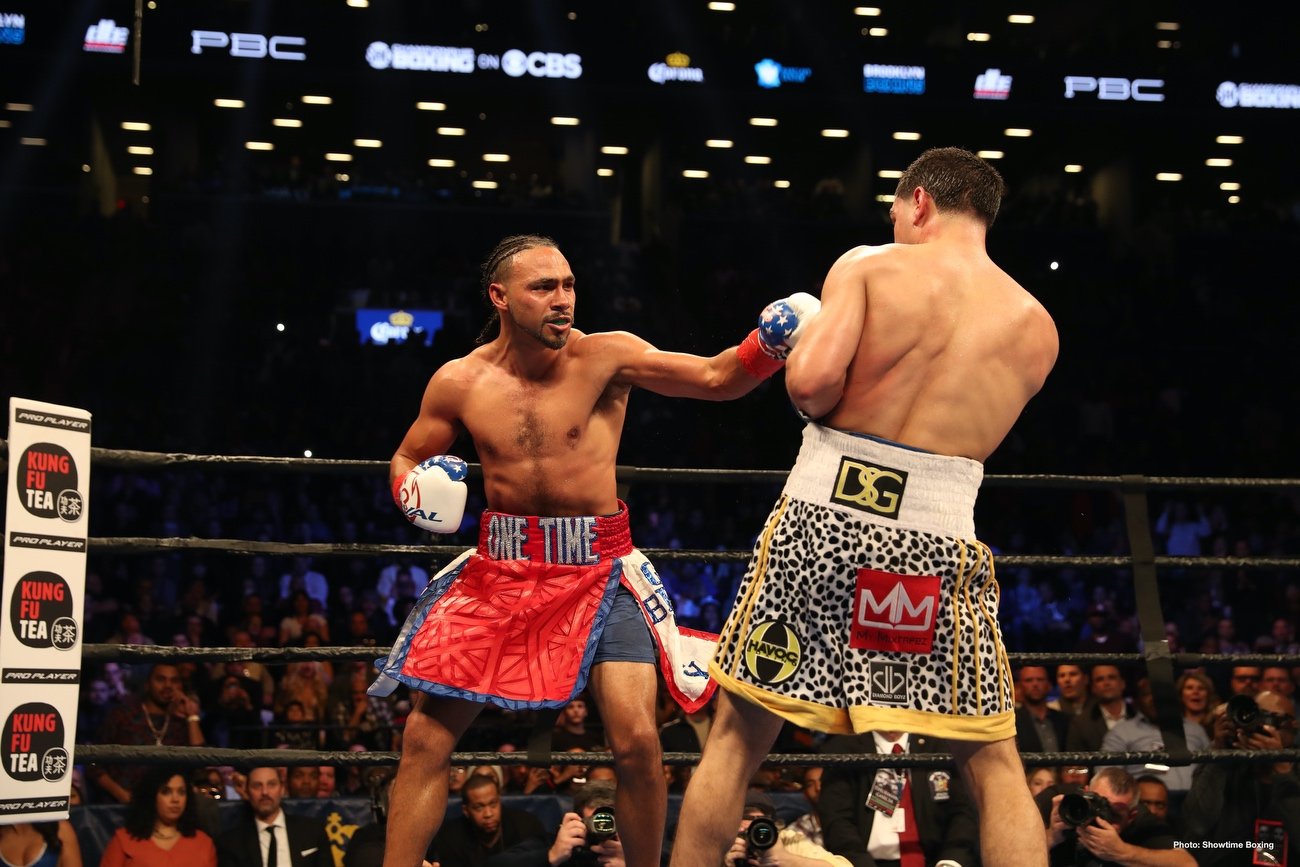 "But anytime I hit crazy numbers, 185 or 192 after the Pacquiao fight, during the hand surgery.
"I was gaining fat and eating things I shouldn't have eating, and that's something I had to knock myself out of that.
"I can't make the same mistake I made in 2019 where I lost 35 pounds to fight Josesito Lopez. I gave myself that one. It was a 22-month comeback.
"Right after, I gained the 35 pounds back, and I had to lose 35 pounds again to fight Manny Pacquiao, That was a mistake, a no-no too.
"I think that ultimately could have affected my performance. I very much dislike something as simple as disciplining oneself with weight management was probably one of those things that made a close fight too close where I couldn't really perform the way I wanted to perform," Thurman said.
With the way Thurman is repeatedly letting himself get fat in between fights, it's as if he's not learning from his mistakes.
He admits that he had to lose over 30 pounds for his last two fights against Manny Pacquiao and Josesito Lopez, and yet he made the same mistake in ballooning up in weight to 192 after his loss to Pacquiao.
Thurman is still trying to take off the weight that he put on after the Manny fight, and it's unclear how much more he's got to lose.
A couple of months ago, Thurman looked real fat with his face round and looked terrible. He didn't resemble a world-class athlete.
Thurman will probably be okay for his next fight because he's expected to face a lower-level opponent as a tune-up.
But if Thurman gains back all the weight he lost after that fight, he's going to be continuing his problems.
Thurman to fight this year
"I'm already on it right now. You don't see the slim face look," said Thurman. "It's already coming down. I don't got to step on the scale because I already got a contract in hand.
"But I don't need a contract in hand to get ready. That's what we're doing right now; we're getting ready for the world. Thurman vs. everybody. We will be back in the ring this year," said Thurman.
"A lot of my training camp wasn't in fight strategy. A lot of my training camp was focused on being on weight being in shape, and then let's give Pacquiao a great fight, which we did.
"But I didn't outperform the way I needed to, and I think I could have done that with better weight management that year," Thurman said.
It would be a good idea for Thurman to get a fight scheduled already, even if it's a journeyman level fighter. Thurman hasn't fought in a year and a half, and what he doesn't need is to be still inactive by This summer.
In July, it'll be exactly two years since Thurman last fought against Pacquiao in July 2019. Thurman is getting to the point where he might not ever regain what he lost due to his inactivity.