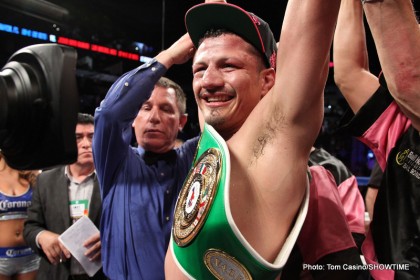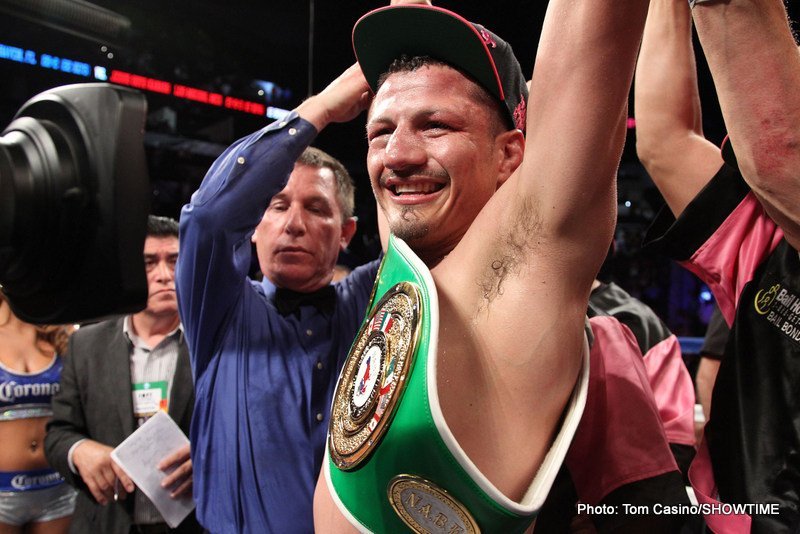 Last night in San Antonio was quite simply boxing at its very best. The Golden Boy card – surely the leading candidate for Card Of The Year (if there is such an award) – gave us three, count them, three, great fights; two of which are definite FOTY candidates. With the televised opener (at least it was on BoxNation, and how grateful should UK fight fans be for that channel picking up last night's card!) we had a very good fight in Keith Thurman-Diego Chaves, while with the two epics that were Omar Figueroa-Nihito Arakawa and Jesus Soto Karass-Andre Berto we had unforgettable action delivered by way of two breathtaking slugfests.
The WBC interim lightweight battle was truly awesome, with both guys hammering away at each other with scarcely a jab or anything resembling a clinch in sight all night. That fight may not be topped as far as 2013's FOTY award goes, but last night's main event sure came close. Andre Berto, once looked at as a star and a future pound-for-pound talent, showed a ton of heart in his must-win war with Mexican warrior Soto Karass, but he didn't win. A huge setback, the 12th-round TKO may well have ended Berto's chances of being an elite fighter.
But Karass, who improved to 28-8-3(18) must be applauded for taking Berto's best and coming on to score the biggest win of his 12-year pro career. After a great start in which he stunned Berto with a right hand in the opening round, Karass, who also pummelled Berto in the 4th and 5th, came on and closed the show in style. Berto may have seriously hurt his shoulder – and again, the former WBC welterweight champ really does deserve credit for the way he hung tough and refused to quit – but this cannot be allowed to dampen Karass' win in any way.
Amazingly, considering the all-action fights he's given us, Karass has never been rewarded with a crack at a world title. This should be remedied in the Los Mochis man's very next fight. For unless a return with the badly damaged Berto can be arranged (and as great as fight-one was, it would sell), Karass should certainly be allowed to challenge for a major belt. A fight between he and WBA welterweight champ Adrien Broner immediately springs to mind as a very good, potentially great fight; one that would also tell us a lot more about the resolve and heart of "The Problem."
Or how about Karass' win over Berto being rewarded with a shot at Devon Alexander's IBF crown if the fight with Amir Khan (tentatively set for Dubai, a venue Team-Alexander is less than thrilled about) cannot be finalised? Either way, Karass, a fighter who has more than paid his dues, should get what's coming to him, shouldn't he?
A final thank you has to go out to Golden Boy for producing the great, great card they gave us last night. There have been, and will be, more heavily hyped boxing shows fans have to shell out for, but not too many cards give as much value for money, drama, blood and guts and great memories. Last night we were all reminded just how special this great sport can be!