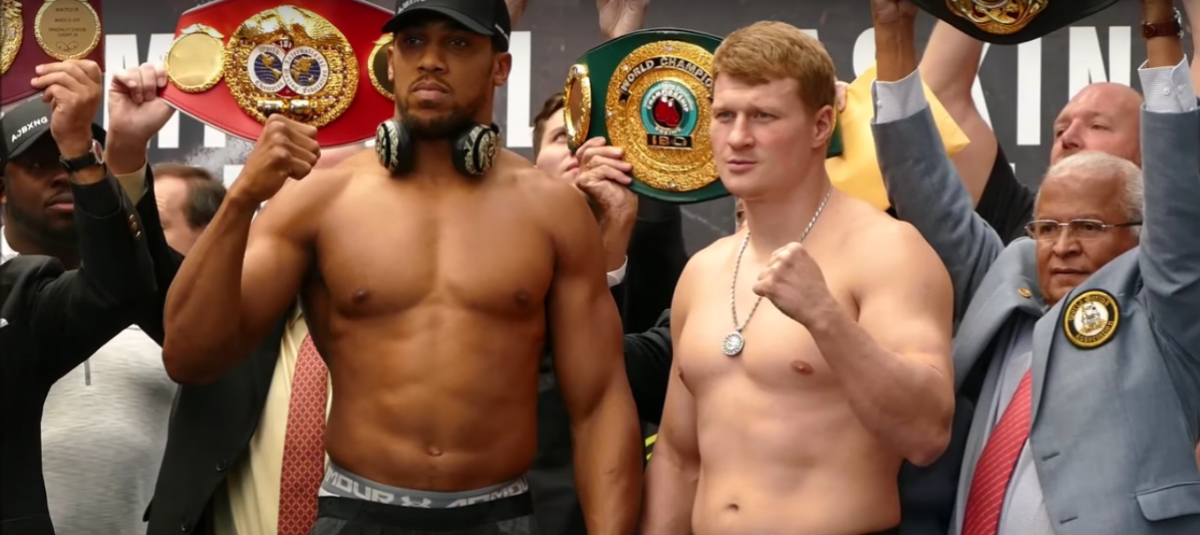 In his biggest pro fight to date, against the great Wladimir Klitschko, Anthony Joshua rose to the occasion in fine and exciting style, winning by KO and retiring Klitschko in the process (maybe not for good, however, with Wladimir back sparring recently and looking and feeling good). Now, tomorrow night, the reigning WBA/IBF/WBO heavyweight champ faces a man many have said presents him with his second toughest pro fight: former WBA ruler and fellow Olympic gold medal winner Alexander Povetkin.
Much has been made of the "concern," or the "worry" AJ promoter Eddie Hearn has over tomorrow's return to Wembley fight, and Joshua's trainer, Rob McCracken has also stated how the Russian star is not a fighter "you would choose to fight." It's a live fight, that's for sure; as in Povetkin, 34-1(24) is very much a live underdog. Knowing his career is very much on the line and that this fight will likely give him his last crack at becoming champion again, 39 year old Povetkin is well aware he must go for it, that he must give his all.
In some ways Povetkin has nothing to lose. All the pressure to win is on AJ, he is expected to win, with his fans all-but demanding a thrilling KO win (that safety-first decision win over Joseph Parker simply did not do) and he will of course be fighting in front of tens of thousands of his passionate fans (though not quite as many this time, the fight struggling to completely sell-out). Povetkin, on the other hand, is widely expected to lose, he will enjoy no fan support, or next to none (unless the Russian veteran can turn the crown around by putting on an unexpectedly great and winning fight; in which case the fans could warm to him) and at age 39, his future is limited, certainly compared to Joshua's.
With this nothing to lose/I've gotta go for it attitude, Povetkin could prove as dangerous as Hearn and others have claimed he is. Or Povetkin could walk onto a shot as he tries too hard to land his own bombs. Povetkin, the shorter man with the shorter reach, simply has to get on the inside and Joshua will surely be ready and waiting to punish him as he tries to get close and go to work. Joshua, 21-0(20) has all the physical advantages, apart from, maybe chin (Klitschko of course put both men down, eventually losing to AJ and decisioning Povetkin, but it could be argued how Joshua was more hurt by Wlad than Povetkin was).
This fight, it could be argued, is Povetkin's to win and Joshua's to lose. There could be the odd scare, or wobble, along the way, but Joshua will get the stoppage. Look for a brave and determined Povetkin to get knocked down more than once, keep getting up, but eventually get stopped either by the referee or by his corner.
And after all he's been through – those two failed drugs tests and over 13 years as a pro – Povetkin may find it tough to come back from a comprehensive stoppage defeat; or to even try to do so. Povetkin may well fight his final fight tomorrow night in London.
Joshua to win inside six exciting but largely one-sided rounds.