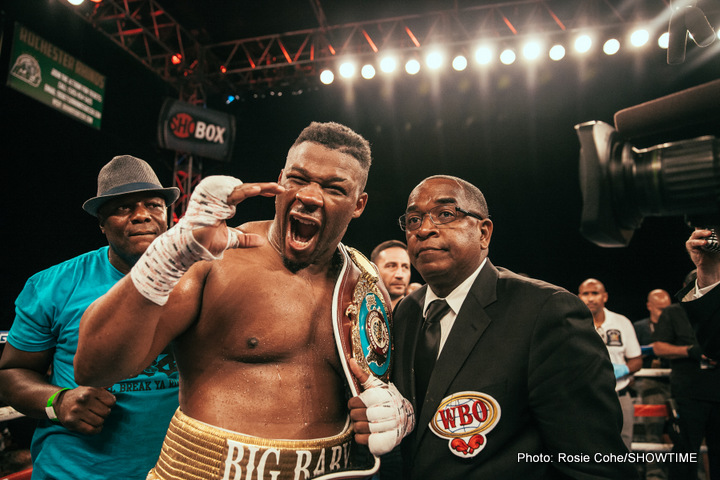 Unbeaten New Yorker Jarrell Miller, an unbeaten heavyweight contender with an explosive mouth to match his punching power, insists he should get first crack at recently crowned WBO heavyweight champ Joseph Parker – not Hughie Fury or David Price.
As Sky Sports have reported, Miller, Price and Fury are on the short-list of challengers for Parker's maiden title defence, pencilled in for April 8. But Miller, known as "Big Baby" is not only dismissive of both Fury and Price, he also has no respect for Parker – who he calls "a bum."
"Everybody is trying to get a shot at him now when they don't deserve it," Miller said when speaking about Parker. "First one comes to mind is Hughie Fury. It seems he wants nothing to do with me, so all of a sudden they say he's mandatory – he's not mandatory. David Price who? Mr Bozo, chinny man? Come on, this guy has to at least get his name out there before he can be considered for a world title shot. I would go anywhere to fight that bum [Parker]. I don't care if it's in New Zealand, I don't care if it's in Botswana, I don't care if it's in Morocco, I don't care if it's in Vegas, or on his doorstep. I'm going to find that boy and beat him."
It will be interesting to hear unbeaten Parker's response to Miller, if he has one. Miller, 28, has plenty of people interested and we want to see just how good he really is. With a background in MMA, Miller, 18-0-1(16) as a pro, has shown his toughness and it would be interesting to see if he can back up his words against Parker.
Recently, Peter Fury confirmed that Hughie Fury is indeed the WBO mandatory, and it may be that the cousin of former champ Tyson gets first shot at Parker. But with his talent for self promotion and his ability to sell a fight, Miller against Parker would be one worth seeing.