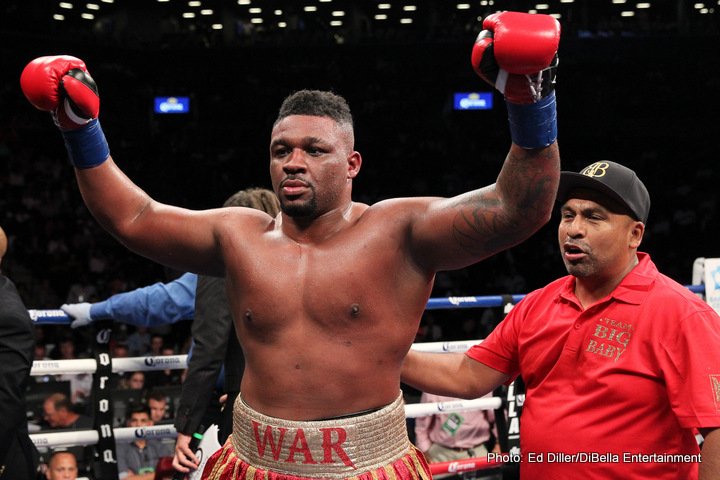 Unbeaten Brooklyn bomber, or "Big Baby," Jarrell Miller is in action this Saturday night, against another big guy in Mariusz Wach. Miller, one of the most prominent trash-talkers in the game today, is chasing a world title shot and the man he really wants to get in a ring with is WBA/IBF ruler Anthony Joshua.
Speaking with Sky Sports once again, Miller, 19-0-1(17) questioned both Joshua's mental strength and the fact that he has gone from 220 or so pounds at the start of his pro career, to 254 against Carlos Takam just over a week ago.
"What I have seen, heard, and the way he fights, he's a mental midget," the 29 year old said. "Once I get there I'm shutting that down. I can drown him in any round. I can drown him in the beginning, I can drown him later. Takam wasn't even pushing the pace and he [AJ] was getting tired. Imagine another heavyweight that is pushing the pace, and landing shots, who is bigger than him. It's a whole different animal. No doubt in my mind, I will stop Anthony Joshua. First of all, he's not a natural big guy. He started in the mid 220s. Now all of a sudden he's 254…..and he's a lot slower. His footwork is terrible."
Miller added how he "hopes" Joshua – who has been called a "body builder," or a "weight lifter" by some other critics, Tyson Fury included – "keeps on putting on muscle." Miller, a huge man himself at 298 for his last fight, believes Joshua's stamina is suspect and will become more so the heavier and more muscled he becomes.
Miller talks a great fight and he does make some good points, but until he gets cracked hard on the chin and proves he can take a bomb, there will be one big question mark next to his name. Let's see if the experienced and durable Wach, 33-2(17) can test Miller in this department in New York on Saturday.
But Eddie Hearn has mentioned Miller as a possible challenger for AJ before now, maybe even for next spring if a Deontay Wilder fight or a Joseph Parker fight cannot be made.