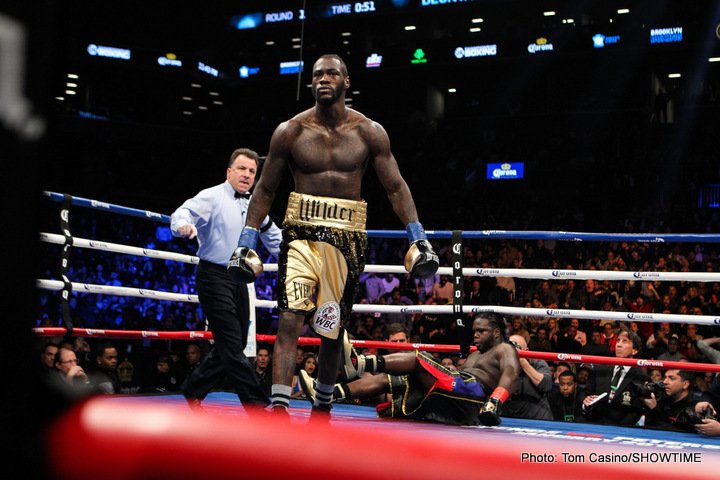 WBC heavyweight king Deontay Wilder scored that quite special thing this past Saturday night: a first-round knockout in a world heavyweight title fight. It's a sight to behold: one man, defending or challenging for the (one-time) biggest prize in sports and putting on an utterly destructive performance that sees him walk away the victor inside a mere three-minutes.
Wilder may not be the best heavyweight on the planet today but no-one can argue with the fact that he possesses chilling, raw punching power.
Here's a look back at some memorable first-round KO's in word heavyweight title fight history:
Joe Louis-Max Schmeling, 1938.
With the entire world watching, heavyweight king Joe Louis had unbelievable pressure on his wide shoulders. Not only had Louis lost to Schmeling in an earlier, non-title meeting, suffering a shock twelfth-round KO, he also had the entire free world relying on him winning. With WWII very much on the horizon and with Schmeling being an unwitting poster-boy for the Nazis, it was down to Louis to quite literally smack Hitler in the nose.
And, boy, did "The Brown Bomber" do so!
As chilling and utterly one-sided a display of destruction you will never see in a world heavyweight title fight. Louis tore after his rival, drilling his challenger as Schmeling turned away on the ropes. A brutal fusillade of shots ruined Max, who famously, unforgettably, screamed out in pain as Louis cracked bone. Seconds later, an unstoppable Louis ended the slaughter, thus avenging the sole loss of his career at the time.
Mike Tyson-Michael Spinks, 1988
Fifty-years on from Louis-Schmeling II, new heavyweight king Tyson met Spinks, actually the lineal champion, in a bout dubbed "Once and For All!" This fight was over as quickly as the classic fight we've only ever seen in black and white, and Tyson's speed, power and effective powers of intimidation got the job done so effectively that boxing historians began to ask if Tyson was a true great, one deserving of being placed alongside the likes of Louis, Marciano and Ali.
Spinks, appearing terrified, offered nothing. Almost broken in half by a wicked body shot, from which he did courageously rise from the canvas, Spinks was then put out of his misery by a jolting shot to the head that sent him half out of the ropes. Tyson looked invincible.
Muhammad Ali-Sonny Liston, 1965
As controversial as any single fight in boxing history. Ali, making the first defence of his crown, and against the man he took it from over a year earlier, was a slight underdog going in (he had of course been a whopping underdog when entering the first fight) but he again "shook up the world."
Did Liston take a dive, or did the short, chopping punch Ali landed (dubbed the "Anchor Punch" by the champ) genuinely flatten Sonny? All these years later and everyone is still asking this question.
Sonny Liston-Floyd Patterson, 1962/63
Liston, a street thug who was misunderstood by most, scored two memorable first-round KO's – both against the same man. Floyd Patterson, who had been kept away from the murderous Liston by the wily Cus D'Amato, finally could take no more and, driven on by sheer pride, agreed to face the top contender. It was no contest, and neither was the return fight.
Liston's powerful and accurate fists did away with the brave but totally outgunned Patterson in mere seconds twice over, leaving a devastated Patterson to don a disguise as he left the arena. Liston, like Tyson before him, appeared all but unbeatable.