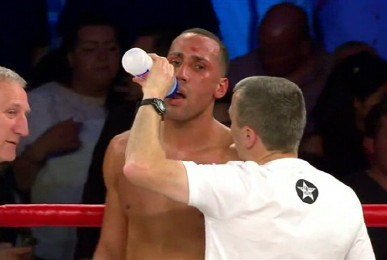 James DeGale has been waiting for his chance for a long while now. The one setback on his resume was a close and controversial mixed decision to George Groves back in 2011 and since then has won European and WBC Silver titles. DeGale has really been making an impact recently since joining with Matchroom sports. In his last three bouts he has three knockouts. Two over undefeated fighters and the third over highly rated Marco Antonio Periban. His record now stands at 20 – 1 – 0 with fourteen knockouts, and he is ready for the world stage.
Andre Dirrell is certainly going to be a tough test for DeGale and whilst I would put my money on him, I can understand this is a 50-50 fight for a lot of people.
However this is the kind of test he will need to convince his doubters, and a win here could put him in position for making some big money down the line. One good thing I can certainly say for boxers promoted by Matchroom and Eddie Hearn, he always has their futures planned out in advance. Hearns seems to always be thinking about the next step in the career development in his fighters and DeGale could well turn into another success story for him.
It is hard to believe that there has not been a world champion Olympian before, but this is a great time for that to change as there are some great match-ups down the line including a rematch with George Groves, in London, for a world title. This is a classic domestic grudge match and would sell extremely well in the UK. The world title would also draw the attention of an international audience which would make the fight even bigger. If DeGale can put George away for the second time he will have no un-avenged losses on his record and can then take over from Carl Froch who would likely have retired at this stage as the man in the 168 division.
The return of Andre Ward could certainly play a factor as well and its not hard to imagine those two talents meeting at some point. That is certainly a fight where Ward would be a strong favorite as it would seem at this point that Ward can do pretty much everything better than DeGale, but DeGale seems to be improving with each fight and Ward could very well have some serious rust issues do to his ridiculous inactivity.
Anyway it pans out, there are some seriously pivotal fights coming up which are going to shape the 168 division for the next few years and this could be the start of big things for the London fighter.