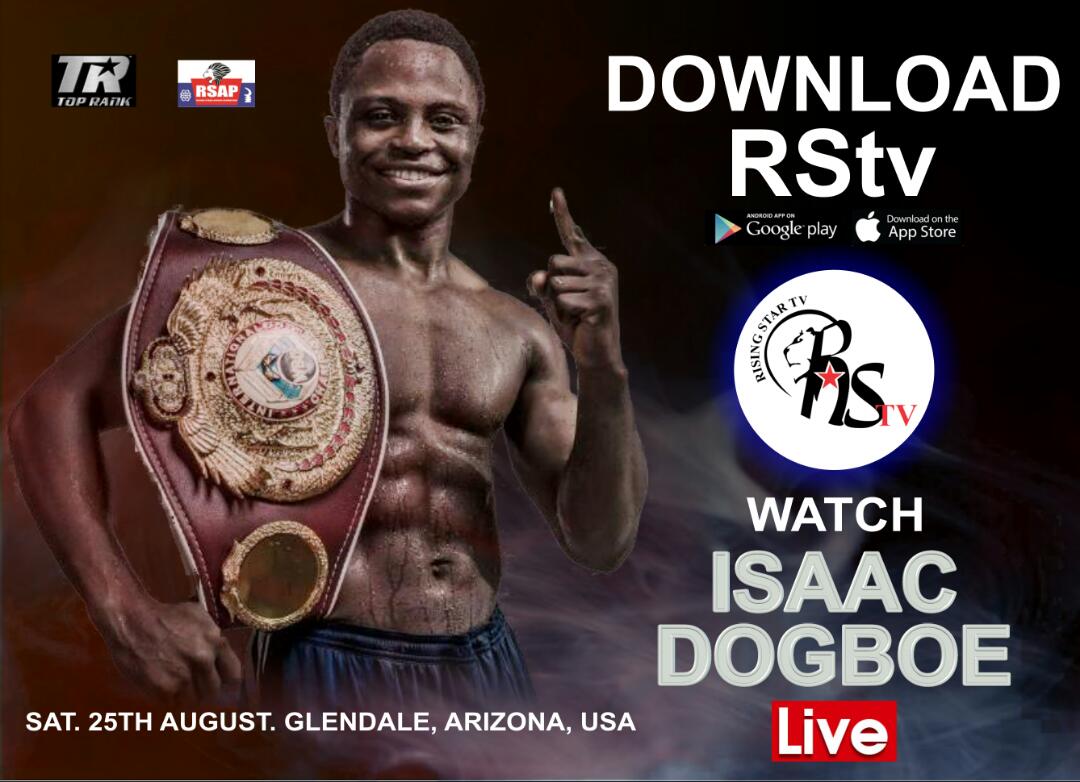 As the countdown to his maiden world title defence against Hidenori Otake at the Gila River Arena on August 25 edges ever closer, Isaac 'Royal Storm' Dogboe has taken time off his busy training regime to send a message to his countrymen, expressing his appreciation and gratitude for their unending support as well as to inform them of the new RStv (Rising Star TV) app created by his father/trainer, Paul Dogboe's Rising Star Africa Promotions.
Undefeated Dogboe (19-0, 12 KOs) arrived in the US from Accra last week, is rounding up preparations for the fight against Otake (31-2-3, 14 KOs) in Pennsylvania and is expected to trek over to Arizona by the end of this week ahead of fight week. But the former teenage Olympian is keen to avoid the situation where many Ghanaians couldn't watch his magnificent conquest of Jessie Magdaleno to win the world title in April courtesy the creation of the new app through which his next and future fights will all be screened live, and it's all just to make his people happy.
"Hello Ghana, we are in the final phase of our training camp and I want to keep you all updated because you are my number one fans, no question about you loyalty. Thank you so much, thank you for the support, thank you for your prayers," Dogboe told this writer from his US training camp.
"I also want to say a big thank you to Mr. Twum-Barima for his immense support during our training camp in Ghana, I'm so grateful. Kwahu oo Kwahu, Kwahu oo Kwahu, Asase aban, yenti gyae," he added some local appellations.
Dogboe then spoke about how the RStv app which can be downloaded via phone and other devices, works.
"I was very sad to hear many Ghanaians couldn't watch my last fight because no local tv station got the right to show it. We don't want that to happen again so we have created our own app to make sure Ghanaians everywhere in the world can watch my future fights," Dogboe explained.
"You all can watch me defend my world title against Hidenori Otake, the Japanese warrior on our RStv app. It's up and running, you can download it on App Store and Play Store, it's compatible with Android and iOS," the WBO junior featherweight king added.
Meanwhile, Dogboe is not leaving out his fans in the US and will offer an opportunity for a one-on-one interaction with them four days before fight night billed 'Dinner with the Champ' at Max's Mukhaase, 2160 N Alma School Rd, Chandler, Arizona next Tuesday, August 21, 2018.
"First of all, I thank God for a successful training camp, right now we are tipping down and we'll be moving to Arizona to acclimatise to the weather and get ready for August 25. It's going down in Glendale at the Gila River Arena, it's going to be fireworks. I'm looking forward to it, I hope you are also looking forward to it," Dogboe said.
"Hang out with me Isaac 'Royal Storm' Dogboe, the warrior of Africa on Tuesday August 21st at Max's Mukhaase in Arizona at 7pm. I can't wait to see you all. As you know, Team Royal Storm we are preparing for war, join us for dinner on August 21," Dogboe said