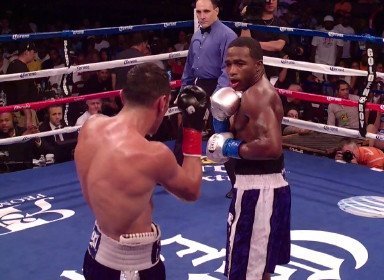 by Robert Jackson: 8 rounds of destruction highlighted Adrien 'The Problem' Broner's decisive victory over former champion Antonio DeMarco a few weeks back. Broner fought with power, and Broner fought with skill. The underskilled but game DeMarco didn't have an answer for what 'The Problem' brought to the ring that night. Finally DeMarco's corner made the right decision to throw in the towel because the warrior in DeMarco would've never quit and as it was he was taking heavy shots. Shots that a lot of fighters never come back from.
During the post-fight interview Broner went verbal as his alter ego the 'Can Man' suggesting that everyone 'Can' get some, but never specifically called anyone out. This writer was wondering whether Timothy 'Desert Storm' Bradley was watching the HBO telecast. As we all know Bradley who fights under the Top Rank banner has nothing lined up currently and no future bouts involving him have been mentioned. It's also possible for Bradley to drop down to 140lbs to make a fight against Broner.
Broner looked very big for the 135lb weight class and it was stated by Jim Lampley during the HBO telecast that he outweighed DeMarco by 5 lbs, even though an unofficial weight wasn't given. Seeing the muscularity of Broner's body it isn't a given that he compete at 147lbs or some catchweight between 140lbs and 147lbs, but it's likely. In the case that he chooses to compete above 135lbs, Tim Bradley becomes a viable opponent or Broner becomes a viable opponent for Bradley.
Bradley not fighting, waiting for a fight to come along does nothing for his preparedness should he get that BIG fight he's looking for. In fact Tim Bradley will be rusty and out of sync having stayed busy for most of his career. Bradley is also no crowd favorite and sitting on a shelf does nothing for fans to see him in action with might up his favorability.
So there you have it, Broner it's being said will be on a fight card next year which will involve a Seth Mitchell /Jonathan Banks rematch, no opponent named yet. Bradley is on the shelf with nothing currently scheduled after failing to get a Pacquiao rematch and turning down a Lamont Peterson rematch. Here's hoping that Broner/ Bradley is made.