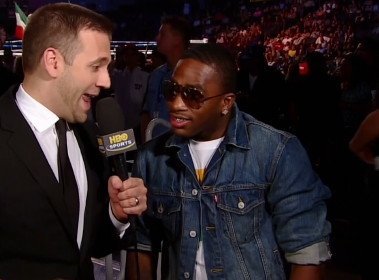 By Rob Smith: WBC lightweight champion Adrien Broner let HBO analyst Max Kellerman know last Saturday night that the fight that he wants next is against Manny Pacquiao in early 2013, saying "There's a fight that can happen – me and [Manny] Pacquiao." The interview took place before the Andre Berto vs. Robert Guerrero fight, which Broner attended in order to see his friend Berto fight.
A fight between Broner and Pacquiao would appear to be one that likely will never get made due to the two fighters not being from the same promotional stable. Normally this probably wouldn't matter, but in this case it does because Pacquiao fights for Top Rank and Broner for Golden Boy Promotions. But perhaps the biggest reason why a fight between Broner and Pacquiao can't get made right now is because Pacquiao is a proven pay per view star, whereas Broner has yet to establish himself as a PPV fighter.
Top Rank promoter Bob Arum would be doing Broner and Golden Boy Promotions a huge favor by agreeing to match Pacquiao up with Broner at this early stage of Broner's career. It would be an interesting fight because of Broner's resemblance to Floyd Mayweather Jr. when fighting, and the fight would definitely do well in terms of money.
The HBO 24/7 series would be interesting with Broner being involved because he's got a lot of charisma and he'd no doubt interest a lot of fans after watching the episodes. However, it's hard to imagine Golden Boy wanting to risk their fighter against a solid fighter like Pacquiao at this point of Broner's career because the chances are high that Broner would be out of his element. Also I doubt Arum would be agreeable to working with Golden Boy in promoting this fight. He'd have to be agreeable to working with Golden Boy, because this wouldn't be one of his in house Top Rank type fights that he often likes to put together.