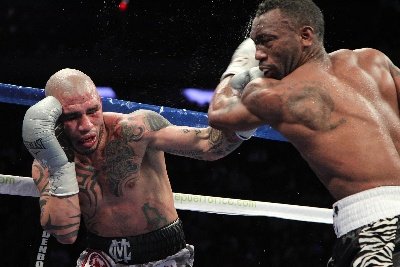 by Bradley Pearson, photo by Tom Casino / Showtime: A subdued wave of anti-climactic reality clouded the historic Madison Square Garden Arena Saturday night, as the hostile pro-Cotto crowd witnessed what just might have been the sun setting on the career of their favourite son.
Three weight world champion Miguel Cotto (37-4, 30 KO's) suffered his second consecutive defeat in the hands of spirited underdog Austin Trout, who retained his WBA light middleweight crown- along with his unblemished record. An ageing performance from the proud Puerto Rican gladiator, in which Trout's (26-0, 14 KO's) physical advantages appeared too big a task to overcome, punishing Cotto down the stretch of the fight. With the alias "No Doubt", the American didn't fold under the lights, repeatedly tagging Cotto with the straight left hand at will, while bullying his smaller opponent on the inside- earning what in the end was, a comfortable points decision. Despite having some early success, Cotto ultimately couldn't find that extra gear we've become so accustomed to seeing; that saw him excel in previous bouts. As the fight matured, the defending champion was able to use his range well, keeping Miguel on the outside, even backing him up at times. Whilst surprisingly wide, the verdict was certainly a fair one- and one that was met with the expected rafters of boo's from the army of Cotto fans.
Despite a number of ring insiders picking Trout, the champions victory will go down as yet another upset in what has been an unpredictable year for the sport. It would appear in recent months that the easiest way to lose a boxing match would be to linked with a future date with WBC 154 lb kingpin, Saul "Canelo" Alvarez. It's been no secret amongst the boxing community that Alvarez (41-0-1, 30 KO's) is expected to make his ring return on the eve of his nation's independence day in early May next year, with Cotto rumoured to have been in the driving seat to face the Twenty-two year old blossoming prodigy. Yet as was the case for former welterweight champion Victor Ortiz back in June, Cotto's untimely defeat may see those plans hit the gutter, with Austin Trout now in position to step up to the plate in what would be a mouth watering unification clash with the Mexican.
Options for Canelo don't end there however, with rumours of a potential clash with pound-for-pound star Floyd Mayweather circulating. Coming off the back of a hard fought victory over Cotto himself, Mayweather (42-0, 26 KO's) may be tempted back into the ring with the WBC belt holder on the prestigious Cinco de Mayo weekend- having already broken the all time PPV record in his clash with Oscar De La Hoya, back in 2007 on the 5th May slot. With Alvarez' popularity growing rapidly among both his home nation and the globe alike, it's a fight that would be expected to do very good numbers- and as his name suggests, may be a drawing factor for "Money" Mayweather.
Whether or not Canelo's team wait around for Mayweather, a Trout fight would turn heads, and is the match-up that makes sense right now;- both being contracted under the same promotional banner, it wouldn't appear to be a difficult bout to make. Although Golden Boy Promotions CEO Richard Schaefer has gone on record since, quoting that a Miguel Cotto vs. Saul Alvarez clash is "still a possibility", and that the fight was "definitely a lot closer than the results showed". This revelation, coupled with a tweet from Schaefer's business partner Oscar De La Hoya revealing that he had Cotto winning the fight, makes you wonder whether Trout's victory will do little to derail the plans Golden Boy have perhaps already set in stone for Cinco de Mayo, and that we may still be fed a Cotto vs. Alvarez fight after all.