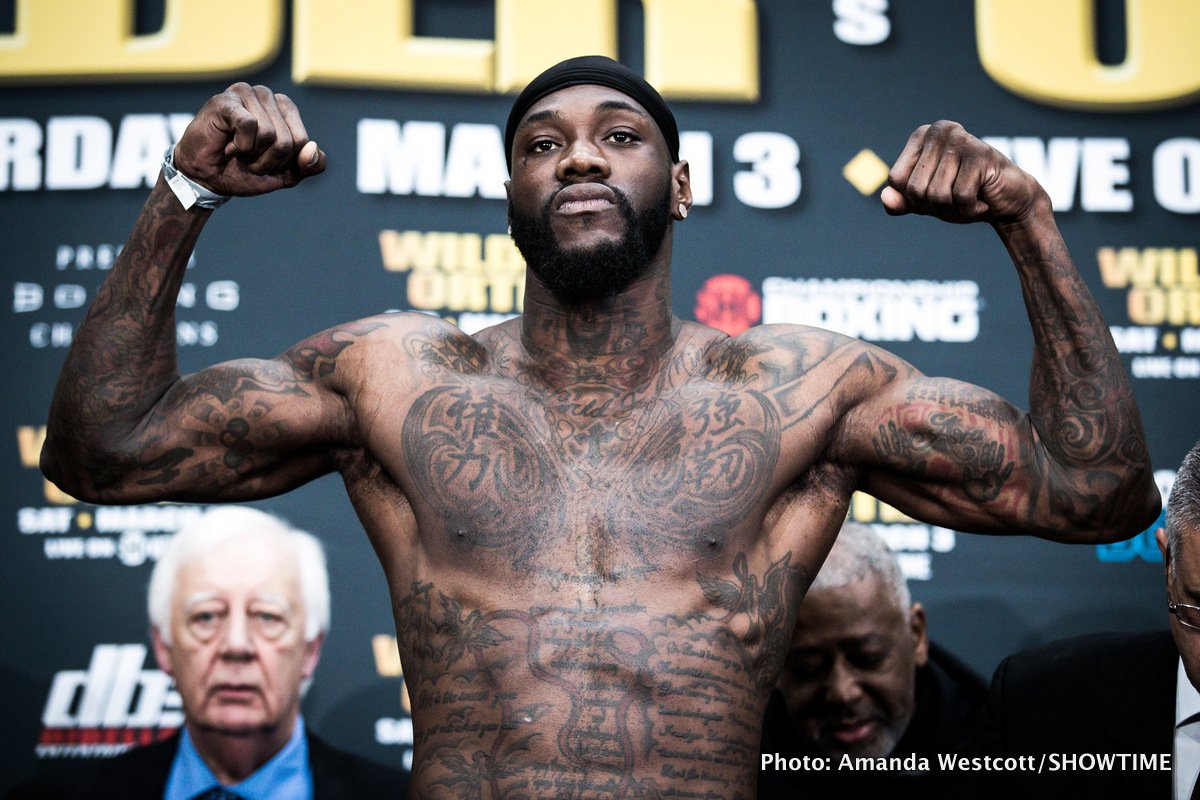 In its way, the soon-to-be-upon-us Deontay Wilder-Luis Ortiz clash is one of the most interesting and exciting match-ups in some time, at any weight. Though the obvious appeal is the very real 'bombs away' factor, the fact that these two juggernauts will (hopefully, almost certainly) be exchanging a quite fierce amount of leather for however long the fight lasts, there are other fascinating elements to this fight.
On one hand, many people are saying this is THE acid test for Wilder, even his first real, bona fide test (which is quite something when we consider how Wilder is 32 years old, has had almost 40 pro fights and has been the ruling WBC heavyweight king for over three years). On the other hand, some people are saying that with this fight, with a win, Ortiz will finally arrive on the world stage in grand style – for real. Though he's pushing 40 (some say the Cuban lefty is actually a good deal older) Ortiz might still have time to show us he is in fact what he says he is: the best heavyweight out there today.
Then there's the Good Guy Vs. Bad Guy element to this fight. Ortiz, due to his failed drugs tests and his trash-tallk, has plenty of fight fans rooting firmly against him. Plenty of fans are hoping Wilder, very much the good guy in their opinion, wipes Ortiz out tomorrow night and makes him pay. The great Angelo Dundee always said that for a promotion to really work, a good guy and a bad guy is needed. This fight has that (although Wilder can quite easily don the black hat in a big-fight showdown and may well do so if and when he squares up with media darling Anthony Joshua).
Throw in the Age Vs. Youth factor and the orthodox v southpaw battle, and it is clear to see there are many facets to tomorrow's heavyweight rumble. Most of all though, it promises to be fun, fun, fun when Wilder and Ortiz lock horns in New York. Everyone has an opinion on what happens, on who wins, and the whole world will be watching. The biggest fight yet for both unbeaten bangers, Wilder-Ortiz just might prove to be The Fight Of The Year. Would you be shocked to see both men hit the canvas tomorrow?
Quite literally anything can happen in this fight. In fact, if Wilder and Ortiz fought ten times, there would likely be ten different results, ten different scenarios. There are plenty of questions going into this one, but which warrior will answer them and will he do so in a manner which proves he is the great fighter he thinks he is?
Wilder is my pick, for what it's worth – but if he does KO Ortiz in style, does Wilder make believers of everyone on his claim to being THE most dangerous and lethal heavyweight in the world? He very well may do so.