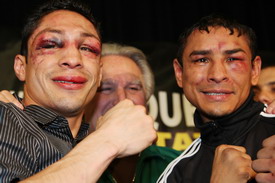 The three Arturo Gatti-Micky Ward wars were truly great, as we all know. The trilogy Marco Antonio Barrera and Erik Morales thrilled the word with was even greater. Yet in the opinion of some, quite a few in fact, the trilogy* (these two should have stopped at three fights, instead and unfortunately engaging in a basically needless and ultimately disappointing fourth bout) Israel Vazquez and Rafael Marquez went through was the most electrifying, brutally entertaining and simply unforgettable of that decade.
From March 3, 2007 to March 1, 2008 these two super, super-bantamweights went at it in a ferocious series of fights, each of them crammed full of action, drama, ever switching momentums, knockdowns, blood and guts and basically everything else anyone could care to wish for from a prizefight.
These two Mexican warriors, neither of whom had any time, or need, for trash-talk, took each other to places precious few fighters have ever been. Vazquez wound up losing an eye, Marquez went through as much pain and fatigue as can be imagined. Marquez, shattering his rival's nose, won the first fight. Vazquez, though advised by some to call it quits, roared back to win the return, avenging his TKO defeat by scoring one of his own.
The decider (or what was thought at the time to be the decider) went all 12 rounds and was arguably the best fight of the three. It was agonisingly close, and could have gone either way, but "Magnifico" Vazquez won the close decision. Marquez felt he had won – as he felt he had been prematurely stopped in fight-two – but by and large there were no hard feelings, only mutual respect.
These two fabulous and to a large degree unappreciated fighters showed us all how it's done, or how it should be done. We can forget the fourth fight – which took place in 2010 and was won, easily, by Marquez, who scored a third-round TKO – other than the fact that it served to see how Vazquez and Marquez are forever entwined at 2-2, which really is quite fitting, as evenly matched and as supremely skilled as these two were.
Both men thoroughly deserve to be immortalised in The Hall of Fame. Ten years ago yesterday, these two Mexican legends may well have given us The Fight of The Decade for the 2000s.
Marquez walked away with a 41-9(37) record. Vazquez finished with a fine 44-5(32) ledger. Like Gatti and Ward and Barrera and Morales, these two greats are forever linked in the minds of fight fans.