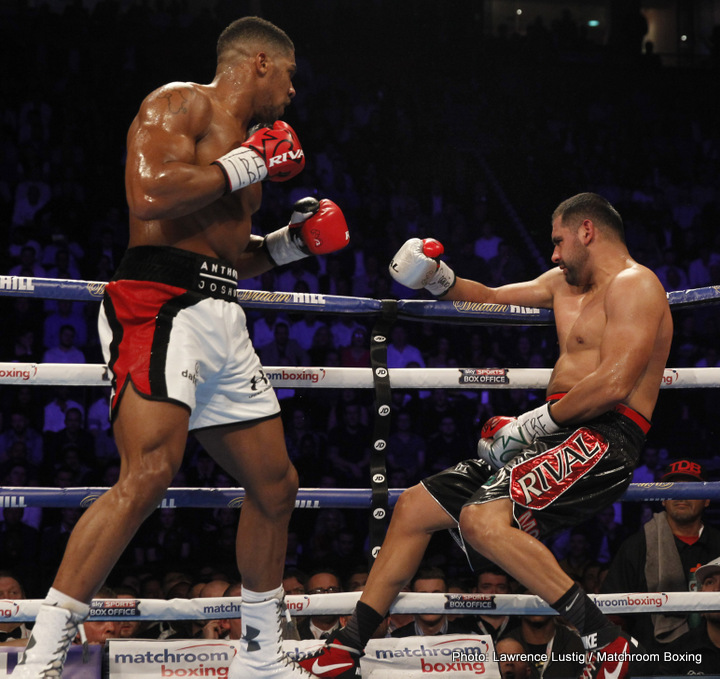 Fans are currently enjoying the exciting, the-best-fight-the-best, World Boxing Super Series tournament; or to be fully accurate, we are enjoying two ongoing WBSS tournaments; the one at cruiserweight as well as the one at super-middleweight.
So far, both eight-man elimination tourneys have gone smoothly and we have seen some great action fights along with some crunching knockouts – and the thrilling finals are still to come, in the first quarter of 2018.
These kind of tournaments have of course taken place before – the fairly recent "Super Six" also being fought at 168 pounds – but we have not seen (barring the British success that was "Prizefighter") – a similar version up at heavyweight in many a year. Wouldn't it be great if we got, somehow, a WBSS at heavyweight next year!
Just imagine the guaranteed action and excitement an eight-man tournament at heavyweight would bring.
How about this for a lineup:
Deontay Wilder
Anthony Joshua
Joseph Parker
Luis Ortiz (having undertaken strict drugs tests along with every other participant)
Hughie Fury
Shannon Briggs
David Haye
Tony Bellew
With Jarrell Miller and Dillian Whyte as back up replacement fighters.
How great would such a knockout tournament, with $50 million on the line, be!?
The current fighters at super-middleweight and cruiserweight are fighting for the Muhammad Ali trophy, so why can't we have a tournament between boxers who are actually fighting in the same weight class as The Greatest?
The benefits involved would be many; not least we would see an undisputed heavyweight king crowned after all the smoke had cleared. Also, those people who are complaining how the sport's glamour division is no longer anything of the kind would have to change their opinion.
If enough big-name heavies were interested and willing to put it all on the line (and enjoy huge exposure along with the opportunity to earn millions) then why couldn't there be a heavyweight version of what we are all currently following, enjoying and, importantly, willing to pay to watch?
Bottom line: if not one but two other weight divisions can have a WBSS, then why can't the heavyweight division have one!