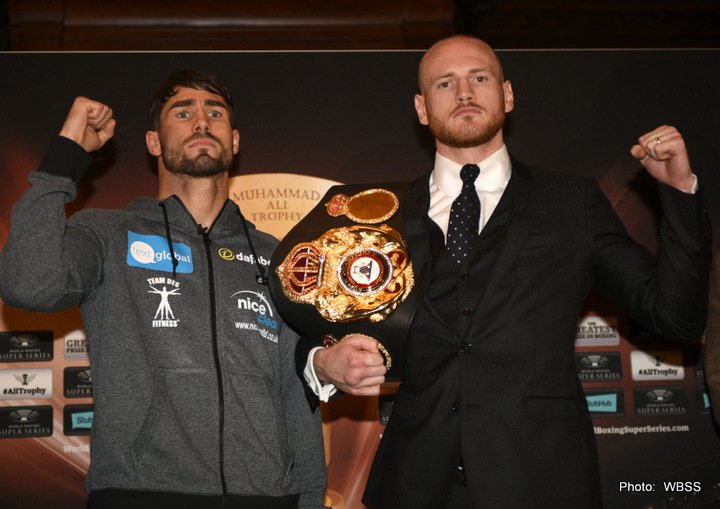 WBA Super World Super Middleweight champion George Groves (26-3, 19 KOs) and Jamie Cox (24-0,13 KOs) went head-to-head at the last pre fight press conference before their Ali Trophy quarter-final on Saturday at The SSE Arena Wembley in London.
"I feel I'm in the form of my career," said Groves.
"This tournament has come along for me at the perfect time. I've had a fantastic camp. Everything that we wanted to happen did happen. It's gone perfectly. I know what Jamie Cox can bring. I know that we maybe haven't seen the best of Jamie yet because he's fought nowhere near the level that I have.
He hasn't fought any big names, he hasn't been in world title fights and he'll have to take a giant leap on Saturday night. Both he and his trainer will wonder whether he can take that leap. When he's boxed at a lower level he's dropped to that level and maybe he's that sort of fighter. Maybe he can rise to the occasion but maybe not."
"He's been gifted with a world title shot. He hasn't fought anyone decent to get this. I've picked him, it's fantastic for him. We're hoping that the best of Jamie Cox will show up. I look forward to going out and performing and performing well. And to show everyone in the division that I'm still the man to beat."
https://www.youtube.com/watch?v=3dXRTGm89yg
Said Jamie Cox:
"I'm going to win. It's as simple as that. No question about it. I've come into this to win the tournament. George is the first stop. I'm ready. I don't know why he chose me. Everyone in the tournament is good, but I'm going to make my mark."
Said Comosa's Chief Boxing Officer, Kalle Sauerland:
"I am here with two absolute athletes. George Groves, the man to beat in the tournament. He's the WBA super champion, the best super middleweight when one looks at all the names. That's why he's the number one seed.
A lot of people are talking about a Eubank Jr. vs. Groves semi-final but Jamie Cox comes in with a nothing to lose situation. He's an undefeated challenger and you have a storyline that you couldn't put into a Hollywood thriller.
We're lucky to be sitting here every week ringside at this great fights and this is no different."
Promotor Eddie Hearn:
"It is a big opportunity but it's not one Jamie Cox doesn't deserve. Jamie Cox has been wanting to become a world champion for a long time. There's been talk of a Chris Eubank Jr. vs. George Groves fight and we're here to disrupt the plans."
"Jamie Cox has been talked about for a long, long time as a great fighter, a great puncher. The world around the business is that Jamie is the real deal. It's only when you step up to this level that you find out if it's true. And if it is true I believe he can win the world title on Saturday night.
The tournament is a massive opportunity and we thank Kalle Sauerland and the World Boxing Super Series for it. Now we have the opportunity there's only one thing to do and that's go and become world champion."
George Groves' trainer, Shane McGuigan:
"George Groves has always strived to be the best that he can be. He's got a very confident attitude but he's still putting in all the graft. The camp has gone fantastic, it's been 12 great weeks.
Jamie Cox has been a pro for a long time and there are still question marks over his quality. He hasn't proven himself at the top level and maybe there's a reason he hasn't stepped up to that level in the past."
Jamie Cox's trainer, John Costello:
"Size had no relevance that evening and it will certainly have no relevance on Saturday night. Jamie's ability and what he brings will be very relevant because we're taking that WBC Super Championship home with us. I've said it before, but I like to repeat: George Groves made a big mistake when he picked Jamie Cox."
Tickets for the Ali Trophy quarter-final clash on Saturday in London are on sale ranging from rom £35 to £130 at stubhub.co.uk.
John Costello: ''Groves made a big mistake when he picked Cox"
Coach John Costello believes George Groves made a big mistake when he selected Jamie Cox as his quarter-final opponent ahead of their all-British Muhammad Ali Trophy showdown on Saturday at the SSE Arena, Wembley in London.
Costello has been in Cox's corner for the last 11 years and has helped shape the Swindon man into the fighter he is today. His first World Boxing Super Series test will see the undefeated 31 year-old challenge for the WBA Super World belt.
"We always wanted this fight with George Groves. We'd asked for this fight before so when George picked Jamie in Monte Carlo we was in our element. All our Christmases had come at once," reveals Costello, who believes his boxer has the beating of any man in the super middleweight division.
''I've said it before and people have laughed at me. I've believe Jamie can beat any 12 stone fighter on the planet. People are talking about size but that has no relevance for me. Carl Froch was 12 stone 4 when he fought George Groves at Wembley, and I believe George was over 13 stone. Jamie will be heavier than 12 stone 4. Jamie would be dehydrated if he got into the ring at 12 stone 4.
"Size had no relevance that evening and it will certainly have no relevance on Saturday night. Jamie's ability and what he brings will be very relevant because we're taking that WBC Super Championship home with us. That's 100% set in stone. We're here to a do a job and that's what we are going to do. George Groves made a big mistake when he picked Jamie Cox."
Tickets for George Groves vs. Jamie Cox at The SSE Arena Wembley are available via stubhub.co.uk
###
World-title hope Jamie Cox has told how he cleared his name after his ex-missus got him thrown in jail.
The 31 year old southpaw from Swindon bids to take the WBA Super world super-middleweight title off George Groves at SSE Arena on Saturday night – and set up a semi final against Chris Eubank jr in World Boxing Super Series.
The tournament has handed Cox the chance to become a millionaire – but last year, he feared his career was over after he was handed a six-month sentence for assaulting his ex girlfriend.
The conviction was quashed – after Cox spent four weeks in prison on remand.
"It was a big shock to find myself in jail," he said.
"I never, ever thought I would end up in jail. I'm not out and about doing things that get you in trouble.
"It was a hard four weeks, being in prison when I knew I shouldn't have been in there.
"There was no assault. It just didn't happen.
"Were there any marks on her ? No. I didn't touch her, that's why.
"I had some of my stuff in her flat, she wouldn't open the door and was sending me texts saying she was going to commit suicide.
"I bust the door open, picked up my stuff, saw that she was OK and left – and ended up in jail for it.
"I didn't expect to end up in jail for busting a door and picking up my stuff.
"She knew what she was doing. I didn't want to be with her, she wanted to be with me and when things didn't go her way, she got nasty.
"It was all premeditated. She rang the police before I even got to her flat."
Following his release, Cox rebuilt his career – and now meets Groves in a fight he's been working towards since he was a boy.
"My dad wanted me to play football or golf," remembered Cox, "but I was no good at either – and I couldn't sing.
"There was always music on in my house – but I was no Tom Jones.
"The fight that got me into boxing was the Frank Bruno-Mike Tyson rematch (in 1996). I just remember the way everyone got behind Frank and when he lost, it put a stone in my heart. The fight made me want to box and when I got to the gym, I was addicted."
Cox has known Groves since they were England amateur team mates together and said: "I know George is a great fighter and I know I need to bring my 'A' game.
"But I'm ready."