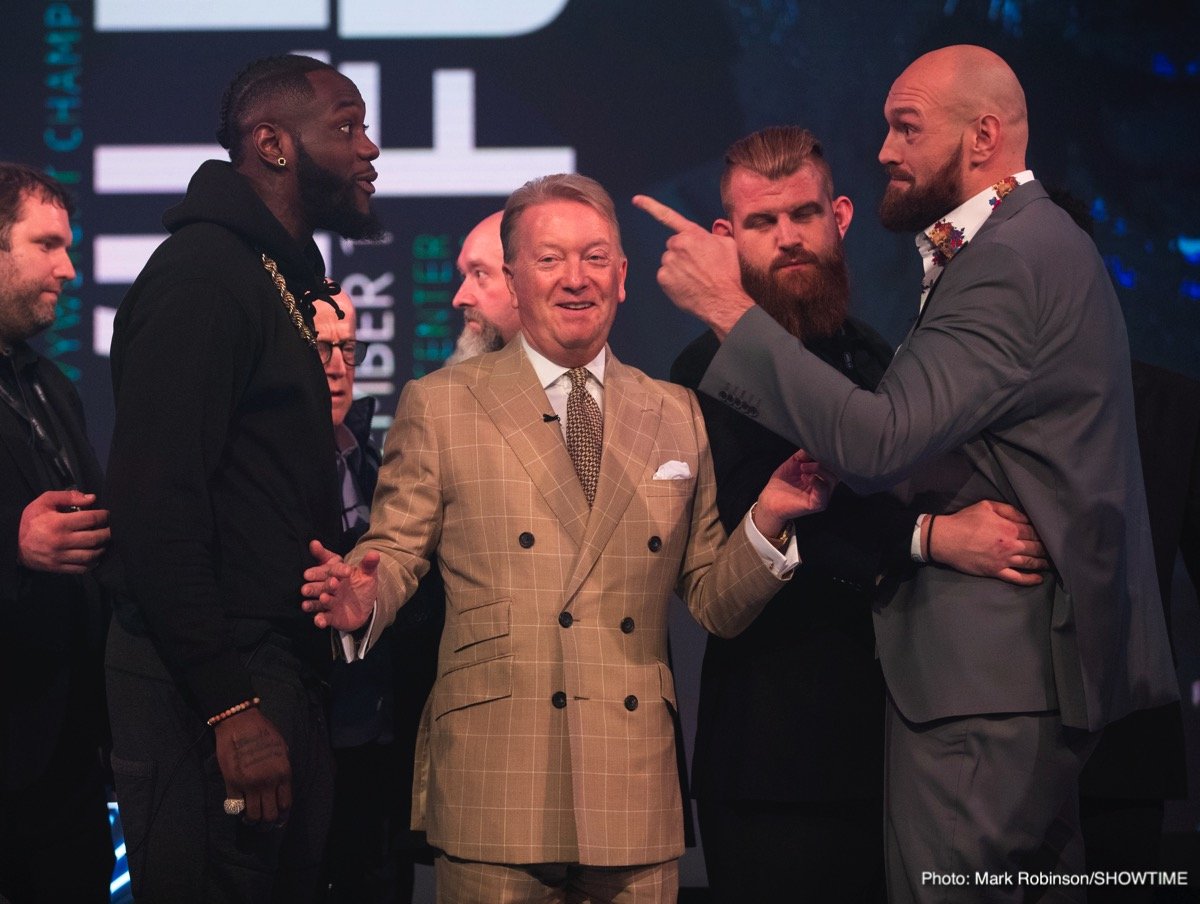 First of all, promoter Eddie Hearn said he was almost certain a Deontay Wilder-Tyson Fury fight would never actually happen. It is happening, on December 1st in Los Angeles at The Staples Centre. More recently, Hearn said that in his opinion the only way Fury – who, in the opinion of the man who tried to sign him, is "not ready" for the fight – can win is basically by spoiling, making the fight a dull encounter and by boring Wilder to defeat.
But despite his negativity, Hearn has a keen eye on the fight. Right now, the promoter is wondering how many pay-per-view buys the intriguing fight will generate. Wilder, getting way too carried away, recently said that he thinks/hopes/wonders if the fight might do well over 2 million P-P-V buys in the US alone. That's extremely unlikely to happen, but the fight could well prove to be a hit. Hearn, in speaking with The Star, said that if the fight reaches or surpasses the 1 million mark in pay-per-view buys he will then extend a 50/50 offer to Wilder (assuming of course Wilder wins) for the big one – the unification showdown with Anthony Joshua.
Hearn recently vented his spleen when expressing his exasperation, no, his flat-out anger over Wilder's (perhaps cheeky, but not too serious or heartfelt) demand for a 60/40 split in his favour for that mega-fight. Now, Hearn will be checking out just how big an attraction the "unknown" Wilder really is. Will Wilder-Fury do big numbers, crazy numbers, even? Maybe. And if so, we will see if Hearn is a man of his word, in that we will see if he keeps his promise of offering a victorious Wilder that 50/50 split.
Wilder and Fury both did their utmost to get fans interested in their upcoming fight; their UK, New York and LA pressers proving most amusing. Now, with less than six weeks to go until fight night, both parties hope the fans will part with their dollars and their pound notes in style. Of course, when Hearn says he will offer Wilder that 50/50 deal if the December fight does a million buys, it must be remembered how a million P-P-V buys in the US – with the price tag being around $50 to $90 – means a whole lot more than a million buys in the UK, where the price tag for an armchair fan is a less crippling £19.99 (approx $26.00).
But in any case, let's see just how good the clash between the WBC champ and the ruling linear champ does in December, December being a month chock-full of big fights (a number of them pay-per-view). We don't know what kind of a deal Hearn is willing to offer Fury for a fight against AJ if he is victorious on Dec. 1, but that's a whole different story.
Prediction: with a solid under-card, Wilder-Fury tops the 500,000 mark in pay-per-view buys. Who knows what Hearn would then offer the winner for that big one with Joshua?