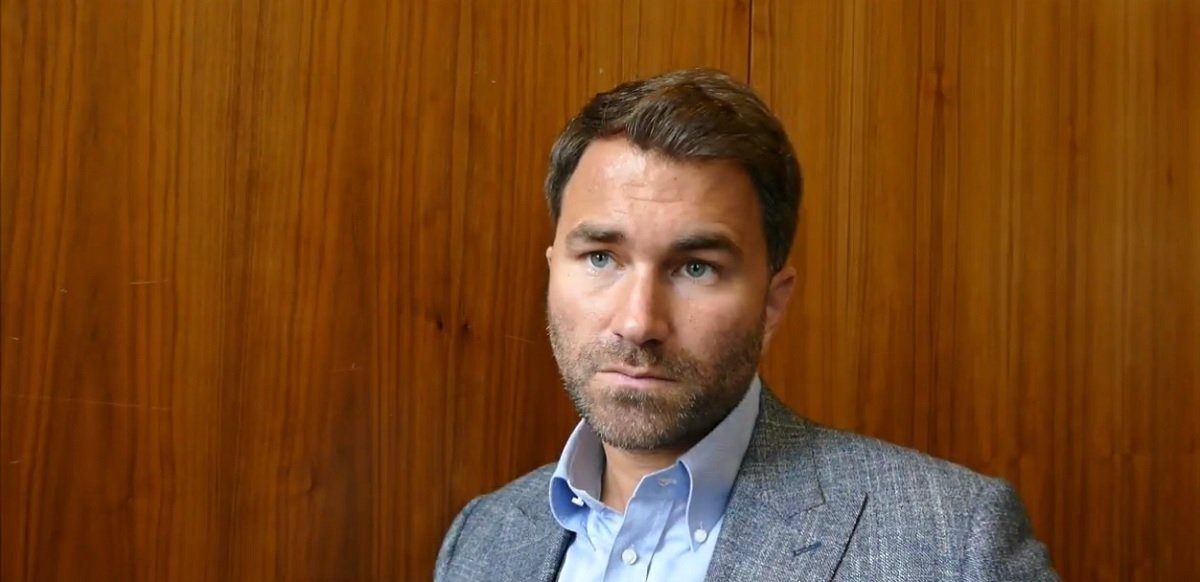 Eddie Hearn seems to have finally lost his patience. Maybe that's an understatement. Speaking with IFL TV, the promoter unleashed a volley of foul language as he tore into WBC heavyweight champ Deontay Wilder. Hearn is furious over Wilder's latest demand regarding that big showdown with rival heavyweight ruler Anthony Joshua: a 60-percent split of the fight purse.
Hearn says there is absolutely no way on earth Wilder is worth that and in no way will he ever get that much. Hearn used the word idiot quite a lot between swear words, calling Wilder an idiot and also questioning the intelligence of those fight fans who believe Wilder really does want to fight AJ.
"Boring, boring, mate, f**k off mate, you ain't earned three million bucks, f**k sake, you can walk up any hight street, any city, any town in the world and ask anyone who Deontay Wilder is – [and] no-one's got a f*****g clue," Hearn bellowed. "He ain't even going to do 300 buys on pay-per-view – [yet] he wants 60-40 (for the Joshua fight. Idiot! F*****g don't waste our time. Don't use Joshua's name to try and gain a profile and publicity. F*****g waste of time, waste of my life, if that's what he really thinks please don't waste my time – I'm really f*****g busy. It's just so draining, all we do is chase, all we do is make approaches, all we do is make offers. I'm sick and tired of those idiots out there who think he wants the fight. How stupid have you got to be to think Wilder wants this fight – just listen to what he's saying."
So is Wilder out-pricing himself on purpose, simply because, as Hearn insists, the WBC champ wants no part of the WBA/IBF/WBO king? Or is Wilder asking for 60-percent in an attempt to get Hearn to come back with a 50-50 split offer; this being the deal Wilder really wants and fully believes he is worth? It's all fun and games, or at least it was. As Hearn says, it has now become so draining. We fans just want to see this fight happen (providing of course Wilder gets past Tyson Fury on December 1st in Los Angeles), the best versus the best.
But if Hearn's anger is anything to go by, we are further away then even when it comes to actually getting to see this heavyweight unification battle.