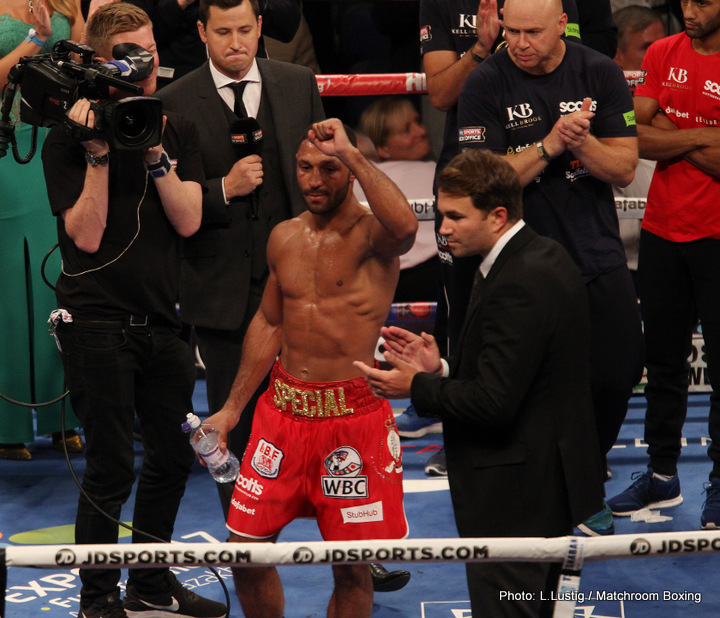 It seems Kell Brook will remain at welterweight, where he of course holds the IBF crown. It had been assumed by many that Brook would vacate his welterweight belt having bulked up to middleweight for his unsuccessful challenge of world champ Gennady Golovkin in September. Brook himself said many times how he felt so much stronger as a 160-pounder, having avoided "killing myself" to make 147.
But now, promoter Eddie Hearn has revealed how he has "reached out" to Top Rank head Bob Arum with regards to a possible Brook-Manny Pacquiao unification fight. Hearn, in speaking with The Daily Mail, also mentioned Brook's mandatory challenger, Errol Spence Jnr.
"I thought at times that his next move might be to light-middleweight but he has been quite firm that after spending so much effort winning the IBF welterweight belt that he will not let it go without a fight," Hearn told the newspaper. "He would love a unification fight with Manny Pacquiao, who holds the WBO belt. I have reached out to Bob Arum and they know we are keen. He knows we are here and that it would make a great fight. Another mouth-watering fight is Errol Spence. I want to get Kell out again in March so we'll see."
It's not clear how long Spence, Brook's mandatory, will be willing to wait for his shot, but if Brook doesn't face Spence soon he will run the risk of being stripped by the IBF. And what chance is there really of Pac-Man opting to fight Brook? It could happen of course, but it's no secret Pacquiao wants that return meeting with Mr. Mayweather. Will this super-fight part two actually happen? If so – and if Brook can make 147 again safely – it could prove to be Spence for him instead.
This fight makes sense on plenty of levels; not least the fact that Spence has earned his shot at Brook. Win that, and "The Special One" will be back proving his nickname is an appropriate one. Brook would then be free to look for further big fights. But can the Sheffield man really drop all the muscle he put on just three months ago and remain physically strong and effective?