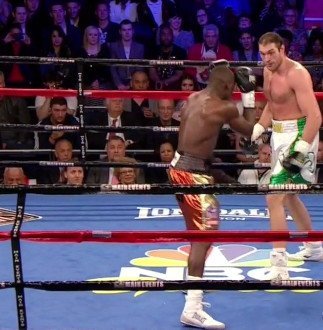 With the news today about former WBA heavyweight champion David Haye suffering a cut during sparring for his fight next week against Tyson Fury, it means that the fight will be postponed or possibly be even cancelled depending on whether Team Fury still wants to reschedule. However, it might be in Fury's best interest to forget about facing Haye altogether, because it's not as if Fury stood a real chance at winning the fight.
The odds were heavily in Haye's favor to the point where it was hardly worth it for Fury to take the fight. Let's be honest here; does anyone really think that the 6'9″, fragile-chinned Fury had any actual chance to beat Haye in this fight?
Fury doesn't have the power, speed or the chin to have any chance at beating a big puncher like Haye. That's why this injury might actually be the best thing for Fury because it let's him move on and save face at the same time. I mean, Fury now has a ready-made excuse for why he shouldn't have to face Haye now, and no one will blame him if he moves on and resumes fighting the likes of Martin Rogan, Kevin Johnson and Vinny Maddalone-types.
Haye's cut will take a quite a bit of time to heal, and it might not be worth it for Fury to hang around waiting, because his chances of beating Haye are pretty much zero. Fury is better off trying to work his way into position for a title shot against one of the Klitschko brothers.
With the way that Haye was sparring like a wild man against a series of 6'6″ monster punchers like Deontay Wilder, Mariusz Wach and Alexander Dimitrenko, it's not surprising at all that he ended up getting cut by one of them. What in the heck was he doing still doing sparring with 1 week to go before the fight with Fury? Talk about your incredibly dumb moves. That's about the dumbest thing I could think of doing. I wonder what Haye was thinking when he decided to do that? It's like shooting yourself in the foot for the fun of it.
Deontay Wilder is available for a fight, so maybe Fury should look his way because Wilder needs an opponent for next month when he fights on the undercard of the Bernard Hopkins vs. Karo Murat card in Atlantic City, New Jersey. Fury vs. Wilder would be a great match-up, and it would give Fury some badly needed publicity in the United States.