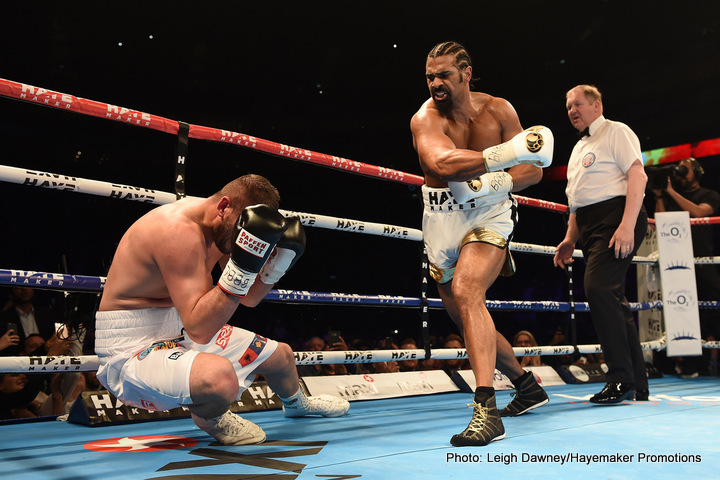 As fight fans will likely recall, heavyweight contender and former WBA champ David Haye twice pulled out of fighting Tyson Fury due to suffering an injury – a cut eye and then a shoulder injury that needed surgery – and Fury really put the boot in, claiming Haye was scared to face him. Now, in light of Fury's ankle injury postponing his big rematch with Wladimir Klitschko, Haye could perhaps be forgiven for putting the boot firmly back in.
Instead, Haye said to Sky Sports that he is as disappointed as everyone else who wanted to see the July 9 encounter, and Haye said he feels Fury will be able to recover fast and "get back on it," (Haye meant back on it with regards to training, not boozing!)
"I know I got a lot of criticism from Fury, but maybe now that he's had an injury he will understand that sometimes there's nothing you can do," Haye said today. "Tyson's done an ankle, but he doesn't seem too injured. I saw him dancing around during the Euros, so his injury can't be that bad. I reckon he'll recover quickly and get back on it. It wasn't amusing, I wanted to see the fight."
So too did millions of fans all over the world. Was Fury's November 2015 win a fluke? Can Klitschko get revenge? We must all wait until likely new date October (8th or 29th according to various reports) to get our answers. In the meantime, when being aware of Fury's love of partying, it is to be hoped the heavyweight champ doesn't pile too much weight back on ahead of October. Full training will resume anew in around six weeks, Fury said in his video reporting the ankle injury, and that is plenty of time for Fury to undo all the work he had done ahead of the July 9 date.
Haye makes an interesting point regarding just how serious Fury's ankle injury is, though. Fury has certainly not been resting up and allowing the injury to get better as quickly as possible. Hopefully, Fury has not lost interest in fighting and is as upset as everyone else is over the rematch being delayed.