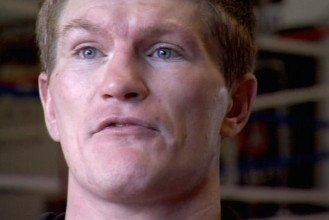 In 9 days time, "Turbo" Terry Flanagan will square off against big punching American knockout artist Jose Zepeda in Manchester for the WBO 135 lb title, live on Boxnation in the UK.
Scots Ken Buchanan, Jim Watt and Ricky Burns have held versions of the world 135 lb title, yet should Flanagan prevail he will become the first English fighter to do so.
Terry – who hails from Ancoats – is being backed by former world champion and fellow Mancunian Ricky Hatton, who is confident he can do the business in front of his hometown fans on July 11th.
"The Hitman" – who enjoyed his own hometown world title success when he beat Kostya Tzsyu in 2005 for the IBF 140 lb crown, said to the Manchester Evening News;
"You can compare this fight to Joe Calzaghe against Jeff Lacy when they fought in Manchester. Joe was facing a wrecking machine in Lacy, who at the time was knocking everyone out – but look what a master boxer like Joe did. He took him to pieces."
"When I look at Zepeda's record I can see the big knockouts. There's no doubt he can punch but I don't see a defining name on there, and for me Terry is a class boxer."
This will be a first at 135 for Zepeda who has predominantly boxed at welterweight and light welter for the majority of his career. He has not boxed outside the US either, so there are some clear questions surrounding him going in.
Talking to iFLtv last week, Flanagan addressed those issues;
"There's a lot of things that will play a part in this fight. The weight. What's he like at the weight? What's his punch like at the weight? When he's down at the weight, does he travel well? So that's what I'm seeing with him and we'll see what happens."
"But I'm planning on going in there and smashing it, so…"
"Winning will mean everything, for everyone who believed in me from the start, like. My manager who stuck by me through those early shows where I wasn't selling many tickets. My coach – he's been there from the start, we grew up together as kids – for us both to win it, that'd be great."
And with some final words of encouragement from Hatton, we await the 11th of July and the crowning of potentially Britain's next world champion. It's sure to be a fight.
"Terry is a tremendous fighter and nothing would make me prouder than to see him become world champion in Manchester." said the Hitman.
Twitter @Undilutedpoison