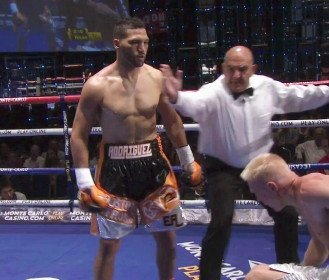 Super middleweight Edwin Rodriguez (24-0, 16 KO's) proved he was the better man tonight in quickly stopped Denis Grachev (13-2-1, 8 KO's) in the 1st round on Saturday night at the Salle des etoiles, in Monte Carlo, Monaco. Rodriguez nailed a hurt Grachev with three straight clubbing right hands to the head that ended with referee Stanley Christodolou stopping in to stop the fight at 2:50 of the round.
Rodriguez had already put Grachev down twice in the round, and he was hitting him nearly at will at the time of the stoppage.
Rodriguez made the calculated move to come out blazing fast in the 1st round and throwing everything he had at the slower but hard hitting Grachev. It worked because Grachev was too slow and was overwhelmed by Rodriguez's clubbing right hand shots. Rodriguez didn't look great and it might not work punching like against good super middleweights like Andre Ward, Carl Froch or Mikkel Kessler, but against a limited fighter like Grachev, it was all that Rodriguez needed to get the win. The clubbing right hands was Rodriguez's weapon of choice in the round and it was very effective.
The first knockdown came from a right hand clubbing shot by Rodriguez that hit Grachev on the top of his head. After the action resumed, Rodriguez corned Grachev and hammered him with clubbing right hands and sent him down on the canvas with a left hook to the head. The fight was quickly over after Grachev got back to his feet, as Rodriguez mixed body and head shots to get him to the ropes where he then nailed him with three straight clubbing right hands at which point the referee stepped in and stopped the fight.
—
WBA light welterweight Khabib Allakhverdiev (19-0, 9 KO's) had too much youth and energy for 38-year-old Souleymane M'baye (40-5-1, 22 KO's) in outworking him and stopping him in the 11th round with a hail of unanswered shots. Allakhverdiev knocked M'baye two twice in the fight, once in the 2nd and another time in the 8th.
—
Other boxing results:
Junior Makabu MD 12 Dmytro Kucher
Max Bursak UD 12 Prince Arron