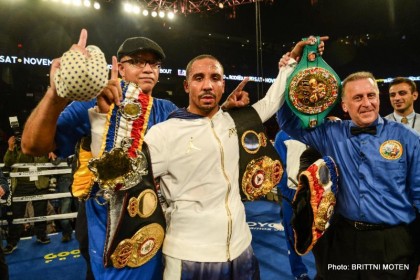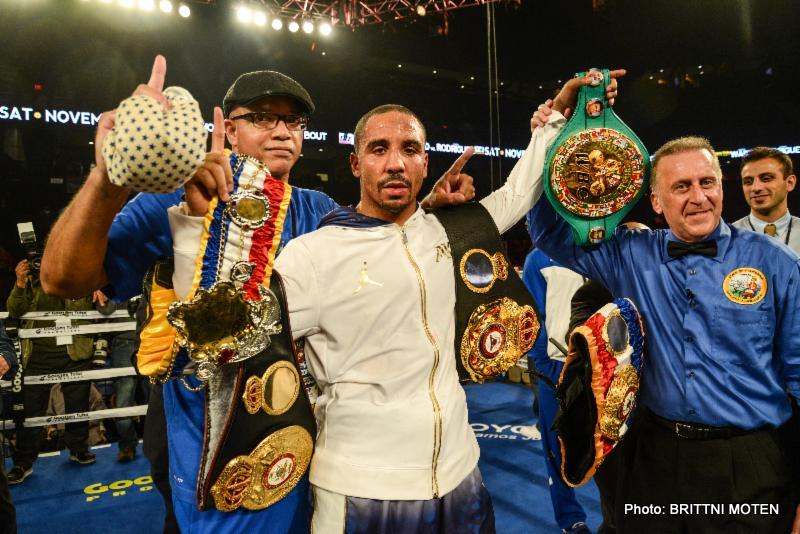 Two days ago defending WBA and Ring Magazine Champion Andre "S.O.G". Ward (27-0, 14 KOs) declared that he would come back better than ever after a 14-month layoff, and he lived up to his claim on Saturday night by dominating challenger Edwin "La Bomba" Rodriguez (24-1, 16 KOs) in earning a lopsided unanimous decision victory at the Citizen's Business Bank Arena in Ontario, Calif.
Scores were 118-106, 117-107, 116-108.
Billed as "THE RETURN", the HBO® World Championship Boxing televised main event was the headliner of a nine-bout card presented by Goossen Tutor Promotions and sponsored by Toyota, Morongo Casino Resort & Spa, and the City of Ontario. The Ward-Rodriguez bout was presented in association with S.O.G. Promotions and DiBella Entertainment.
Due to the Worcester, MA fighter's inability to make the 168-pound limit, Ward's world title was not at stake. However, an obviously irritated but focused Ward seemed bent on punishing Rodriguez for what he called "lack of professionalism", and his speed and sharp, crisp punches landed at will.
In what was a hotly contested bout with a high dose of nastiness, Ward and Rodriguez were each penalized two points by referee Jack Reiss in the fourth round for failing to break at his instructions and upon his attempts to pull the pair apart.
"We had two highly trained athletes full of adrenalin and emotion," the veteran referee observed. "I deducted two points from each of them and warned them that the deduction of another point would result in a disqualification. That was done with the intent to produce an exciting, competitive fight all the way to its conclusion. And it did."
"We knew he would come out and try and bull me," said Ward, who showed no ill effects from his inactivity following surgery to his right shoulder.
"Instead of trying to win rounds he was looking to land one big shot. He wanted to make it ugly and hope he could land something big. Jack Reiss did a tremendous job keeping the action going."
"He was putting his head down a little too much," a frustrated Rodriguez pointed out. "Andre Ward is very tricky, but does not have a lot of power in his right hand. I am just disappointed in my performance. The weight had nothing to do with it. He's a good fighter. What can I say?"
Results from Ontario, CA
WBA/WBC SUPER MIDDLEWEIGHT TITLE
Andre Ward (27-0, 14 KOs, Oakland, CA), W TKO 10 over Edwin Rodriguez (24-1, 16 KOs, New Haven, CT).
Ward retains WBA & WBC Super Middleweight Titles.
SUPER MIDDLEWEIGHTS
Brandon Gonzales (18-0-1, 10 KOs, Sacramento, CA) W UD 10 over Jonathan Nelson (13-3-2, 3 KOs, Little Rock, AK
MIDDLEWEIGHTS
Sergio Mora (25-3-2, 7 KOs, Los Angeles, CA) W KO 5 (2:53) over Milton Nunez (26-9-1, 24 KOs, Barranquilla, Colombia)
JUNIOR MIDDLEWEIGHTS
Tony Hirsch (14-5-2, 6 KOs, Oakland, CA) W UDEC 6 over Donyil Livingston (8-4-1, 4 KOs, Palmdale, CA)
SUPER WELTERWEIGHTS (2)
Oscar Molina (7-0, 6 KOs, Norwalk, CA) W TKO 4 (3:00) over Carlos Sanchez (6-5, 2 KOs, Denver, CO)
Justin Deloach (6-0, 4 KOs, Atlanta, GA) W KO 3 (:51) over Robert Hill (1-2, Inglewood, CA)
LIGHTWEIGHTS
John Molina, Jr. (27-3, 22 KOs, Los Angeles, CA) W TKO 2 over Jorge Pimentel (26-18, 19 KOs, Los Angeles, CA)
JUNIOR LIGHTWEIGHTS
Jonathan Arellano (14-2-2, 3 KOs, Ontario, CA) W MDEC 8 over Charles Huerta (18-4, 11 KOs, Paramount, CA)
FEATHERWEIGHTS
Juan Funez (3-0, 1 KO, Van Nuys, CA) W UD 4 vs. Carlos Gonzalez (1-4, Bell, CA)