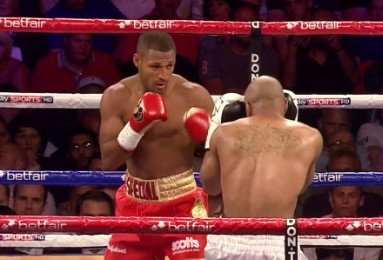 Undefeated Kell Brook (30-0, 20 KO's) took out his frustration at missing a title shot against Devon Alexander by destroying #8 IBF, Carson Jones (35-10-3, 25 KO's) by an 8th round TKO tonight at the MS3 Craven Park in Hull, England. The fight ending was marred when referee Michael Alexander stepped in and stopped the fight while Jones was still fighting back in the 8th.
Jones had his back to the ropes and had just taken some hard shots, but he still looked fine and had his guard up. The referee didn't like the way he looked and pulled the plug at 1:07 of the round.
Things were a little different in this fight compared to last year's fight between them. First off, Brook was bigger and looked like a decent sized junior middleweight, but without the huge power that some of the better 154 pounders have. The fight took place at a catch-weight of 152 lbs, and that seemed to help Brook more than it did the smaller Jones.
Jones started off slow like he normally does, and that hurt him in a big way because Brook went all out in the 1st round to try and stop him. He didn't do it, but he punished Jones badly in that round and in the 2nd when he nailed him with a big right hand shot that caused Jones to take a knee. Brook was holding Jones down with one hand at the time that he hit him with right uppercut that dropped him.
For some reason, Jones held back with his offense until the 6th and by then he'd already taken a ton of punishment. If this was a planned thing then it was a mistake because he was hit too many times in the first five rounds for him to suddenly turn the fight around and try and wear Brook down in the last half like he did last time.
Brook's promoter Eddie Hearn talked after the fight about having a big fight for Brook in September. He wouldn't say who the opponent is, but there are rumors that it'll be 42-year-old Shane Mosley or Victor Ortiz. I wouldn't be surprised if it's Mosley. That seems to fit in more with the guys that Brook has been facing. Ortiz would be a tough fight for Brook because when he's fighting good, he's not easy to beat. It's doubtful that Ortiz, Golden Boy and Al Haymon would agree to a fight against Brook coming off of a layoff of more than a year.
—
Lightweight Luke Campbell (1-0, 1 KO's) blew away Andrew Harris (2-6) in a 1st round knockout. Campbell knocked Harris down twice and then flurried on him with a series of quick arm punches that ended with the fight being stopped with Harris still on his feet. It was another premature stoppage, because Harris wasn't that hurt and was trying to fight back. Campbell's one of those types of fighters that throws really fast shots in flurries, and he's going to get a lot of stoppages when he does this because referees get fooled into thinking the shots hurting the other guy. Campbell's final flurry were arm punches thrown without much power. This guy is going to have to change that style because he's going to get knocked out if he tries that move against the quality lightweights in the division.
—
Other boxing contests and results on the card:
Curtis Woodhouse KO 3 Joe Elfidh
John Ryder TKO 2 Guzman Castillo
Anthony Ogogo TKO 5 Gary Boulden
Rocky Fielding pts 4 Darren McKenna