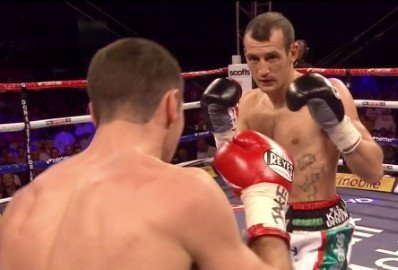 Lightweight Derry Mathews (33-8-2, 18 KO's) was able to pull out a 10th round TKO win over Tommy Coyle (15-2, 6 KO's) tonight in a fight that Mathews was on the verge of losing at the Craven Park Stadium, Hull, Yorkshire, United Kingdom. Mathews hit Coyle with a perfectly timed left hook that sent him down on the canvas.
Coyle was able to climb off the canvas but the fight was stopped once he got back to his feet. Had the referee Phil Edwards allowed it to continue, Mathews would have likely landed another similar bomb on Coyle's chin he would have gone down the same way. The fight was stopped at 2:41 of the round.
Coyle did a great job of out-boxing Mathews in the first 9 rounds and neutralizing his power by using a lot of in and out movement to keep from being in his power alley. Where Coyle made the mistake was going after Mathews when he had started to show signs of wearing down. Coyle seemed to get overeager to stop Mathews after he saw how fatigued that he was and he let his guard down when he came too close.
That's all it took for Mathews to blast him down with a big left hook. That punch would have knocked out anyone in the lightweight. Mathews may be a flawed fighter in many ways, but he's world class power and that shot he hit Coyle with what have had anyone in trouble. Most of the top fighters in the division wouldn't make the mistake of going after Mathews with their guard low. They'd respect his power and make sure they had an arm held high enough to block his left hooks or right hands.
We could see a rematch between Coyle and Mathews coming up next. Mathews agreed to give Coyle a rematch when he asked him after the fight.