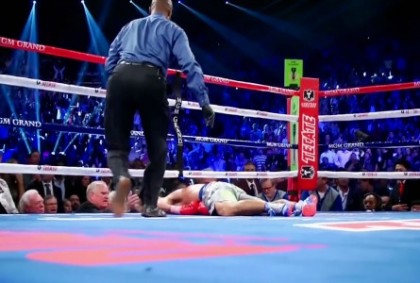 The significance of Manny Pacquiao's fight with Brandon Rios (31-1-1, 23 KO's) this month may be a lot more than what many people think it is, because Pacquiao's promoter Bob Arum believes that it might be all over for the Filipino if he gets beaten by the 27-year-old Rios on November 23rd in their fight at the Cotai Arena, Venetian Resort, Macao, Macao S.A.R., China.
Arum said via Philstar "This is a very important fight for him [Pacquiao] to win. It will certainly hurt him if he loses this fight. It may signify the end. it will be very devastating for him."
It would be very difficult for Pacquiao to continue on if he were to get beaten by Rios, especially if it's another knockout loss. I have no doubts that Arum will continue to faithfully schedule Pacquiao for future pay-per-view bouts even if Rios knocks him out cold in the fight, but the question is whether Pacquiao would want to continue fighting. It would be his 3rd straight loss and it would be difficult for him to make an excuse for it this time.
In his last defeat against Juan Manuel Marquez, Pacquiao saw it as a lucky punch from Marquez. In his defeat before that against Tim Bradley, Pacquiao felt that he should have won. But if Pacquiao gets knocked out by Rios on November 23rd, it'll be hard for the boxing public to digest another lucky punch defeat by Pacquiao. Fans would stop seeing it as a matter of lucky punch, but more so with him showing signs of being past it.
Pacquiao probably won't retire if he gets beaten by Rios, but it's going to be difficult to find a direction he can go in after another loss. If Arum continues to match him relatively tough against his Top Rank fighters, then we could see Pacquiao getting beaten again unless Arum backs him off from the hard punchers and puts him in with Tim Bradley. Pacquiao didn't look so great in losing to Bradley last year, and he had just as many problems handling the movement of Bradley as Marquez did in his recent 12 round split decision loss to him.
What would be really sad is if Pacquiao gets knocked clean out by Rios, and then he continues to fight with the thought that it's just something that happened. Pacquiao has used that excuse in explaining away his loss to Marquez. knockouts happen in boxing. It's true KOs do happen in the sport, but when a fighter is getting knocked out over and over again, then you need to think about looking towards getting out of the sport before you get hurt.