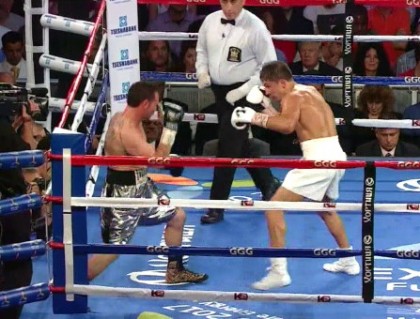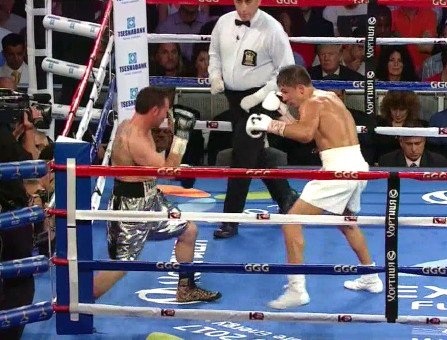 To show how serious WBA middleweight champion Gennady Golovkin (30-0, 27 KOs) is willing to get the big names to fight him, he's willing to be the B-side and even the C-side to make those fights happen, says his promoter Top Loeffer of K2 Promotions.
Loeffler doesn't say who these fighters are that he'd be willing to have Golovkin play second fiddle, but you would have to guess that he's talking about Julio Cesar Chavez Jr, Miguel Cotto and Saul "Canelo" Alvarez, but not necessarily in that order.
"Gennady doesn't mind being the B side. He'd be the C side. That's an electric fight," Loeffler said via RingTV. "At the end of the day we'll see who will sign on the dotted line."
We'll see alright. I just hope he doesn't take it too hard if none of those three – Cotto, Canelo and Chavez Jr – don't rush forward immediately to sign up for a fight against Golovkin, because that doesn't appear to be something that has a realistic chance of ever happening.
Those guys are all looking out for themselves, and they have strong management that is picking out all the right fights for them. You're seeing Cotto fighting a 39-year-old Sergio Martinez with a bad knee and at the end of his career. You're seeing Chavez Jr fight high level middleweight journeyman Brian Vera over and over instead of top level guys from the super middleweight division.
You're seeing Canelo fighting Alfredo Angulo and Erislandy Lara, and getting controversial wins over Lara and Austin Trout.
It would be nice if Canelo, Cotto or Chavez Jr were to step up and face Golovkin for his WBO middleweight title, but will it happen? Nah, not going to happen until Golovkin gets old and starts showing signs of being shot.
By Loeffler saying that Golovkin's willing to be the B or C-side of the equation in fights against one of the big three, it must mean that he's talking about Golovkin taking a much smaller cut of the financial pie against them. All three of those fights would be pay-per-view worthy match-ups, but Golovkin would likely need to accept the small money in agreeing to a percentage of something along the lines of 85/15 for him to get those guys to fight him.
This isn't just about them using their muscle to get more money, but also because of the reality that all three of them would have such a small chance of beating Golovkin. They're not likely to let Golovkin get a good cut of the money if they know that they're likely going to lose.