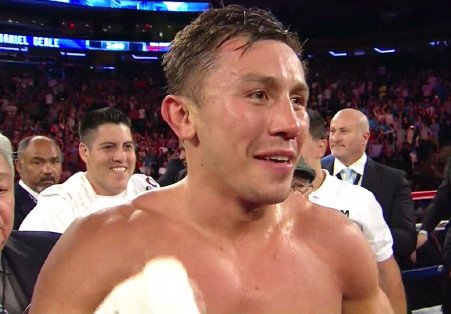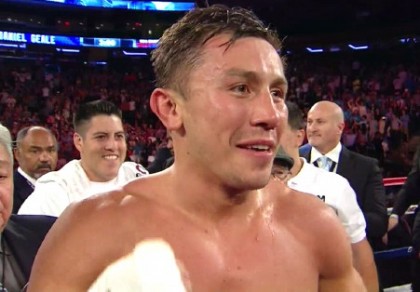 I think most may recall the story of how Marvel character Wolverine was created, at least in the movies. He was part of a scientific experiment in which liquid metal was injected to his bones. That created the frightening super hero we all love. I suggest we could come up with a similar comic book style origin story about middleweight champion Gennady Golovkin.
The boxer from Kazakhstan caught the eyes of most fans in the United States when he first appeared on HBO against formidable opponent Gregorz Proksa in 2012. Proksa, like 20 others to that date, was defeated before the final bell. His last opponent to have gone to distance(8 rounds) was Amar Amari in 2008. After that the champion has stopped every one of his last 17 opponents.
The power that this man carries is almost unimaginable.
Power is what lies at the end of the punches but Golovkin is also an all-around good boxer. He owns a stiff and powerful jab that sets up his head and body attack. His footwork is definitely one of the best in the aggressive fighter category. But in my eyes his most important aspect is that even with all the pop in his punches he doesn't go crazy looking for the kill.
Just by looking at his body definition you can tell how hard he works in the gym. His physique at the weigh-in and on the day of the fight could next to the word "athletic" in a dictionary. Not too muscled, not flabby, not dry, just what is needed to win impressively on the top levels of the sport.
Another element in favor of "GGG" is his desire to fight. His team and himself have stated that they are willing to move down to 154 or up to 168 if necessary. Also; he has fought 8 times since 2012 and 3 of those events were outside the United States(in Ukraine and Monaco); meaning he doesn't care if his fights are not aired by big American networks.
These types of moves greatly expand his market range.
Last Saturday he hosted his first event in New York's Madison Square Garden, this time in the building's main arena. 7,000 people were in attendance. He had performed in the 4,000 seat MSG Theater a couple of times before. Without a doubt his hardcore fan base is quickly growing and the numbers show it.
His last opponent, Daniel "Real Deal" Geale was seen by experts as the most dangerous to date. The Australian was a former IBF and WBA champion and had wins over Sebastian Sylvester, Felix Sturm, and Anthony Mundine. None of that mattered as he was beaten up in 3 rounds. The Aussie showed some skill and landed a very good shot just before being flattened by the champion. Gennady showed us that his arsenal also includes a solid chin. After the fight he told HBO's Max Kellerman that he wanted to unify title belts with Miguel Cotto in the near future.
I believe "GGG" will eventually be one of those fighters that will be included in books and documentaries in the future if he continues this path. For the last decades money has become the deciding factor in sports but this guy seems like he couldn't care less. His program says train, fight, and repeat as fast as possible. Any public relations or marketing professional would kill (figuratively speaking) for a client like this. He is a good looking guy who knocks out high quality opponents in impressive fashion and speaks 4 languages; Kazakh, German, Russian and English.
All of the elements included in Gennady Golovkin's backpack create joy for the fans and fear to his opponents. I am certain that he is the BOXING MONSTER.
The Near Future
In a magical place where I am the boss
If I were the matchmaker K2 Promotions I would immediately (yesterday) chase Sam Soliman (IBF champion) for a unification fight before 2014 ends. A win against the Aussie veteran adds a belt and gives "GGG" the edge in the business table. His credit needs to be as high as possible to secure the best competition available.
2015 should start with a title defense against Martin Murray in England. Like most British boxers, Murray can fill up any local venue. Like many, I saw the Brit win his two title fights. Instead he got a draw in Germany and a loss in Argentina. The two countries are hometowns to Felix Sturm and Sergio Martinez who were the champions in 2011 and 2013. If Gennady goes to the lion's den and beats Murray convincingly in front of his loud fans he becomes a king, at least in the "I don't give a sh*t, I just wanna fight" category.
Then in June comes the BIG ONE: COTTO VS GOLOVKIN. That event could be up there with some of the biggest in history like Ali-Frazier, Ali-Foreman, Leonard-Hearns, Tyson-Holyfield, or Louis-Schmelling. Putting two super stars like Miguel Cotto and Gennady Golovkin against one another is something rare in times when money weighs more than legacy. "GGG" would be favored to win but Cotto, even at this stage of his career, is still one of the best active boxers and with Freddie Roach now in his corner things could get very interesting. I can see the poster right now; COTTO VS GOLOVKIN: CLASH OF THE TITANS. Just the thought brings a smile to my face. LOL