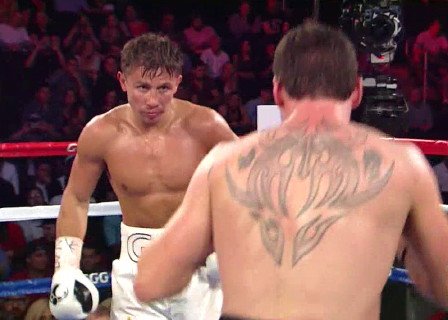 IBF middleweight champion Sam Soliman (44-11, 18 KOs) is targeting WBA middleweight champion Gennady Golovkin (30-0, 27 KOs) for a fight next year in the first part of the year. Soliman recently won the IBF title off of Felix Sturm last May in beating him by a 12 round unanimous decision in Germany.
Instead of milking his IBF title the weakest of opponents like we see with many of the world champions nowadays, Soliman says he wants to face Golovkin in a unification match.
Soliman thinks that he can beat Golovkin with his boxing skills and make him miss all night in the same way that Daniel Geale was doing at times last Saturday night before he was knocked out in the 3rd round by Golovkin.
"I have a fight date later this year in the USA but will be free in March or April next year if Gennady wants to get it on," Soliman said to Fightnews.com.
Soliman can increase his popularity the more he mentions wanting to fight Golovkin, so you kind of have to take what he says about wanting the unification fight with a grain of salt. Before Golovkin's fight against Geale last Saturday, Soliman had been saying that he wanted to fight the winner of the Golovkin-Geale fight.
With the way that Soliman was talking, many boxing fans were under the impression that Soliman was willing to fight the winner of that fight next. But now Soliman is saying that he can fight Golovkin next March or April. By stringing out the fight into the future, and possibly continuing to string out a fight against Golovkin beyond that, Soliman can increase his popularity without even having to fight him.
It would be the same kind of thing we saw with Floyd Mayweather Jr and Manny Pacquiao increasing each other's popularity by talking up a fight between them, and then never actually fighting.
Now that fans realize that Pacquiao and Mayweather will probably never fight, we've seen a drop off in their pay-per-view numbers that you have to attribute in part to fans losing interest in them now that they're not going to be fighting each other.
Golovkin really doesn't get much in fighting Soliman.
There's no upside in facing him other than winning what many boxing fans see as a paper title. Soliman isn't well known in the United States, so Golovkin won't get much by fighting him in terms of attention from American fans.