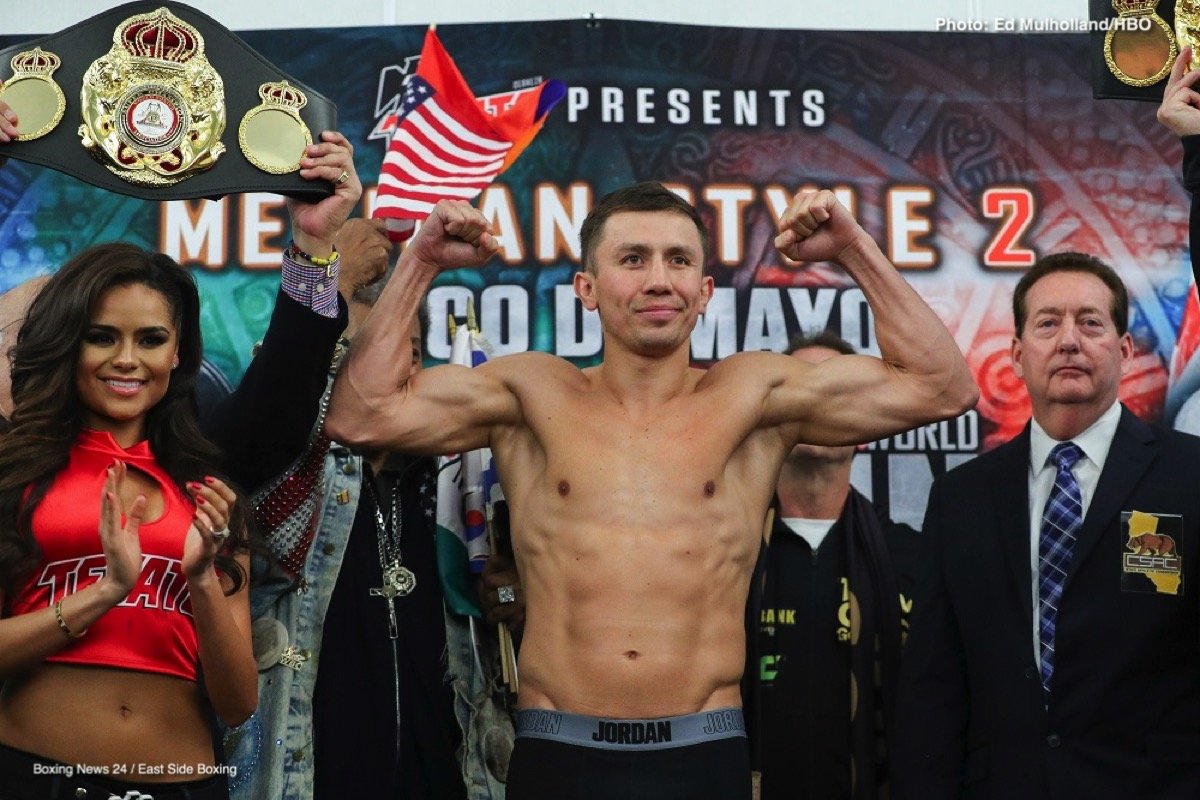 Gennady Golovkin let Golden Boy Promotions' 24 hour 12:00 p.m. deadline expire without agreeing to the 42 ½ percent split that they were offering him for the Saul Canelo Alvarez rematch for September 16. Golovkin (38-0-1, 34 KO) wants a 55-45 split. GGG already backed off 5 percent from the 50-50 that he was asking for.
If Golovkin were to go even lower to the 42 ½ that Golden Boy wants for him to agree to, then he would be dropping down 7 ½ percent from what he was looking to get. It's a great deal for Golden Boy and Canelo if he agrees to that lower split, but not so great for Golovkin.
Golovkin's promoter Tom Loeffler is still working at trying to get a deal done with Golden Boy. "Still trying," Loeffler said to the latimes.com.
If Canelo and Golden Boy choose to reject Golovkin' 55-45 split request, then it's quite likely that Gary 'Spike' O'Sullivan will be used for backup plan. Oscar De La Hoya and Eric Gomez are saying that Daniel Jacobs is the guy that they want to match against Canelo on September 15 if the GGG rematch doesn't take place, but it's likely that the 33-year-old O'Sullivan will be used as the backup. He's not dangerous, and Caneo can look good beating him. However, the money Canelo will bring in will be far less against O'Sullivan than it will if he agrees to a 55-45 split against GGG.
b>"No fight; There is no fight," De La Hoya told ESPN.com. "We want the fight, Tom Loeffler wants the fight. Cleverly the only person here who doesn't want the fight is GGG. The fans want the fight. We bent over backwards. We've come up and there's no budge from him so there's no fight. 100 percent there is no fight," De La Hoya said.
Even if Canelo vs. Jacobs makes money on HBO PPV, it's a risky fight for Alvarez. He could lose and lose badly to Jacobs. Canelo lacks the size to be fighting at middleweight against the big dogs like Jacobs, Jermall Charlo, Demtrius Andrade and Golovkin. We saw how the 5'10 ½" Golovkin was able to get the beer of Canelo when he was on the outside. Had the judging been good last September, Golovkin woud have had his hand raised at the end.
Jacobs and his promoter Eddie Hearn has already said no to the reported 20 percent offer from Golden Boy to fight Canelo. Jacobs isn't a huge draw even in his hometown of Brooklyn, New York. Canelo obviously isn't going to fight Jacobs in New York. He'll take Jacobs to the T-Mobile Arena in Las Vegas, Nevada and fight in front of a likely small crowd. Canelo vs. Jacobs isn't a PPV worthy fight. Canelo isn't a world champion and neither is Jacobs. It's not a great fight for the Mexican Independence Day holiday on September 15.