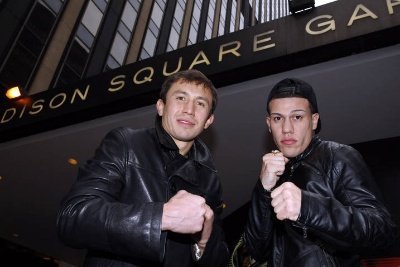 New York, NY (December 1, 2012) On Saturday afternoon in New York City, WBA/IBO Middleweight World Champion Gennady Golovkin, 24-0-0 (21KO's) and world ranked "King" Gabriel Rosado, 21-5-0 (13KO's) met with members of the boxing media to announce their world title clash set for Saturday, January 19, 2013 at The Theater at Madison Square Garden, "The Mecca of Boxing." HBO will televise the bout as part of a world championship Boxing After Dark triple-header. The bout is promoted by K2 Promotions in association with Peltz Boxing Promotions.
By Bill Phanco, photo: Will Hart – WBA World middleweight champion Gennady Golovkin (24-0, 21 KO's) will be making a defense of his title against a junior middleweight contender Gabriel Rosado (21-5, 13 KO's) on HBO on January 19th at Madison Square Garden, New York, New York, USA. Rosado doesn't have a lot of power and he's going to have to try and find a way to survive in this fight. Rosado is over his head in this fight, and it's going to be tough for him against the hard hitting Golovkin.
Golovkin wants to fight the top middleweights in the division but he's had no luck in getting guys like Julio Cesar Chavez Jr, Sergio Martinez, Daniel Geale and Felix Sturm to get in the ring with him.
Rosado is a good junior middleweight, but he's had problems when he's stepped it up against quality fighters like Alfredo Angulo, who knocked Rosado out in two rounds in 2010. Golovkin is an even bigger puncher than Angulo with better speed and boxing skills. You can guess what will happen with Rosado against Golovkin. Rosado will be knocked out at some point.
Golovkin's last opponent Grzegorz Proksa was destroyed in only five rounds last September in a one-sided fight from start to finish. Golovkin had too much power and he was able to reduce Proksa to rubble.
Without any power to speak of, Rosado is going to be lost in this fight against Golovkin. The best that Rosado can hope for in this fight is that he can somehow make it to the final bell and lose by a lopsided decision because he's not going to win this fight.
It's too bad that none of the top fighters want to mix it up with Golovkin because it's disappointing to see him matched up with weak opposition over and over again instead of the big names.