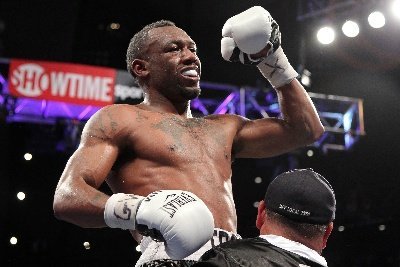 By Rob Smith, photo by Tom Casino/Showtime WBA World junior middleweight champion Austin Trout (26-0, 14 KO's) may have ruined Miguel Cotto's big chance of fighting a huge money mega fight against WBC junior middleweight champion Saul "Canelo" Alvarez by beating Cotto by a decisive 12 round unanimous decision tonight at Madison Square Garden, in New York, New York, USA. The final judges' scores were 117-111, 117-111, 119-109.
Trout might have lost out on a knockout in the 9th round when he hit Cotto with a perfectly legal body shot that had Cotto turning his backing away as if he was quitting. The referee gave Cotto a HUGE break by ruling it was a low blow when in fact it was right on the belt and perfectly legal. Cotto was clearly hurt by the shot and really should have knocked out.
Cotto couldn't land his big shots during the fight, as he missed over and over again. It just looked like he was too small for the 5'10" Trout. When Cotto did land a nice shot, the crowd would roar with applause. However, this actually worked against Cotto because Trout would turn up the pressure on Cotto. It was this way the entire fight with Cotto landing a rare shot and then having to take 10 shots in return from Trout. Cotto was getting nailed with a lot of jabs, and he didn't seem to have any way of getting out of the shots other than move around the ring. That's what Cotto did in the second half of the fight. He was moving constantly and not fighting with the aggression that a challenger should be fighting with.
After the fight Cotto said he would likely return to the ring but he didn't say when or who he'd be facing.
This was supposed to be a fight that would set Cotto up with a fight against Canelo Alvarez, but that probably won't happen. I say probably because it's possible Alvarez will still fight Cotto anyway despite his loss.
Trout tried to speak with Alvarez after the fight, but Alvarez kept walking when Trout called him over. You might interpret that as none interest from Alvarez. I wouldn't blame Alvarez for not wanting to fight Trout, because most of the guys that Golden Boy promotions has been feeding Alvarez are smaller flat-footed fighters with no movement, little power and not much in the way of boxing skills. Alvarez has been fighting light welterweights and welterweights despite fighting at junior middleweight. Against Trout, Alvarez would be fighting a guy bigger than him, and who has excellent boxing skills and mobility. I can't see Alvarez taking that fight.
***
Other boxing results on card:
Jayson Velez TKO 3 Salvador Sanchez II
Daniel Jacobs TKO 5 Chris Fitzpatrick
Eddie Gomez UD 6 Luis Hernandez
John Thompson UD 6 Elie Augustama
Jorge Diaz UD 6 Victor Sanchez
Michael Perez UD 8 Fernando Carcamo
Jeffrey Fontanez TKO 2 Pedro Arcos