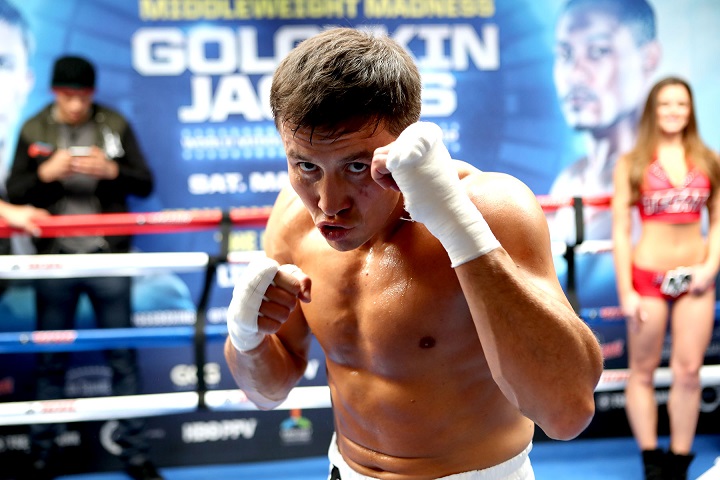 In front of a packed house of media on Tuesday in Los Angeles, Unified Middleweight World Champion, GENNADY "GGG" GOLOVKIN, (36-0, 33 KO's) and former WBC Super Flyweight World Champion, CARLOS "PRINCIPE" CUADRAS, (36-1-1, 27 KO's), both showed they are in excellent shape and rare form heading into battle on Saturday, Mar. 18.
From The Mecca of Boxing, Madison Square Garden, Golovkin will defend his titles against WBA Middleweight World Champion DANIEL "THE MIRACLE MAN" JACOBS, (32-1, 29 KO's) while Cuadras will be featured in a special attraction 10-round clash against cross-town Mexico City rival DAVID "SEVERO" CARMONA, (20-3-5, 8 KO's).
The championship event will be produced and distributed live by HBO Pay-Per-View beginning at 9:00 p.m. ET/6:00 p.m. PT.
GENNADY "GGG" GOLOVKIN (WBC, WBA, IBF, IBO Middleweight Champion)
"I'm very excited for Daniel, he has good boxing style, a very high boxing IQ and he has a lot of power. I think he was the best amateur from the East Coast. This is a very serious fight for me. He must have moved to the West Coast to get the best training because he feels they can help him."
"He's a couple inches taller than me, I've faced taller middleweights but he has power and is a true champion. My focus right now is on Daniel Jacobs; I understand this is a true fight."
"I won't be surprised if he starts out quickly, I understand his power and boxing IQ. I'll be ready for him from the first round to the last round."
"After the loss to Pirog, Daniel is a smarter, stronger, much better fighter. Daniel is stronger, his body looks big. This is the biggest chance of his career."
"This is my first fight of the year so I'm very excited, whatever happens after this I'll be concerned about after the fight with Daniel."
"Last year there was too much talking with Canelo, Saunders, Eubank and Froch; this game is more serious than that, Daniel he is ready. I think this year will be much better."
"This is a new year, Daniel is from Brooklyn, Madison Square Garden is my home and it will be a great atmosphere on March 18."
"Training camp has been great, I know my job and I'm ready for Daniel."
TOM LOEFFLER, Managing Director of K2 Promotions
"We're excited about this fight March 18, since we announced there has been a tremendous amount of interest from the fans and media, it's clearly the two best middleweights fighting each other at Madison Square Garden, both with over 90% knockout ratios. This is really a throwback fight, a true definition of the best fighting the best."
"This is a fight that Gennady gets motivated by, he has a ton of respect for Danny Jacobs, as we all do for what Danny's accomplished inside the ring and outside as a person and a fighter. Both Gennady and Danny are great ambassadors for the sport. They are great representatives of the sport and that's what the fans appreciate—two quality champions inside the ring and outside the ring."
"With Roman Gonzalez fighting Rungvisai, Carlos Cuadras fighting David Carmona and Ryan Martin fighting 'Pee Wee' Cruz in separate fights on March 18, we're really providing value for the fans and those watching on HBO Pay-Per-View."
ABEL SANCHEZ, Trainer of Golovkin
"We've been in camp now for about seven weeks, last week was our first week of sparring, we have two more weeks and we should be right on schedule to do what we need on March 18."
Golovkin and Jacobs have an extraordinary, combined 35 consecutive knockouts heading into this highly anticipated battle.
The HBO Sports special "24/7 Golovkin/Jacobs" will premiere Saturday, Mar. 4 at 10:30 p.m. (ET/PT). The special will provide all-new content including portraits of both fighters' path to this significant showdown. The show will also be available on HBO ON DEMAND®, HBO GO® and HBO NOW and affiliate portals.
GOLOVKIN vs. JACOBS is presented by K2 Promotions. Tickets priced at $1000, $600, $400, $300, $200 and $100, are now on sale and can be purchased at the Madison Square Garden Box Office, all Ticketmaster outlets, Ticketmaster charge by phone (866-858-0008) and online at www.ticketmaster.com or www.thegarden.com