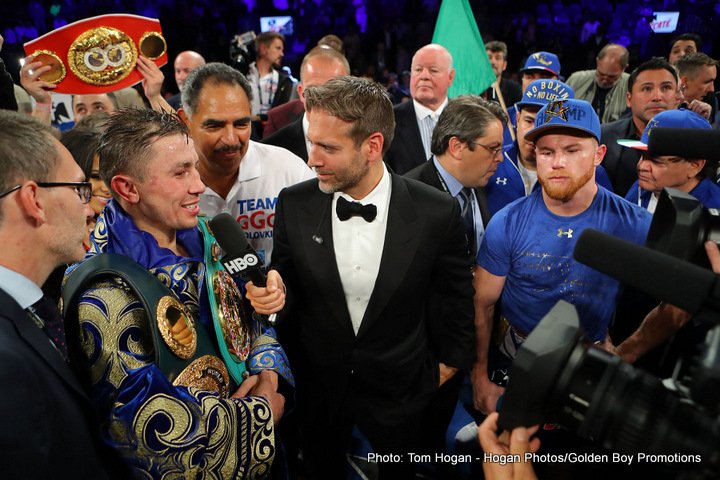 Undefeated IBO/WBA/WBC/IBF middleweight titleholder Gennady "GGG" Golovkin (37-0-1, 33 KOs) got robbed in another horrible decision, which unfortunately has become a common problem in boxing, as he settled for a twelve-round split-decision draw against lineal and Ring middleweight titleholder Saul "Canelo" Alvarez (49-1-2, 34 KOs). Adalaide Byrd rendered a horrific 118-110 scorecard for Canelo, Dave Moretti scored it 115-113 for GGG, while Don Trella had it 114-114, despite the fact that Golovkin aggressively backed up Canelo for the entire bout, was the much more active fighter, and out landed him by forty-nine punches.
One of the myriad issues with boxing is judging and this year it is worse than it has been in recent memory. Time and again, judges render horrendous scorecards that do not evenly remotely reflect what happen in the ring, as was the case in this bout where GGG clearly won the bout, yet was not given the decision. This horrible judging was also demonstrated in the world title fight in July between Manny Pacquiao and Jeff Horn when Pacquiao dominated the bout, only to lose a unanimous decision by a wide margin on all three judges' scorecards.
Byrd somehow, inexplicably rendered one of the worst decisions in boxing history as she only gave Golovkin two rounds, the fourth and seventh, despite the fact that GGG controlled the action for the vast majority of fight and thoroughly dominated Canelo in the eighth and ninth round. Even Canelo thought that he had won seven or eight rounds, not the ten that Byrd gave him. Hopefully, for the sake of the fighters, the sport, and fight fans alike, Byrd, who has a bad history of rendering terrible decisions, especially recently, does not obtain another opportunity to decide a significant boxing fight.
Boxing needs to immediately address this judging issue before it gets any worse and or drives any more fans away from the sport, although this is more wishful thinking because boxing unfortunately has a bad tenacity to ignore the problems that plague this sport.
According to CompuBox punch statistics, Golovkin landed more punches than Canelo 218 to 169, threw more 703 versus 505, and connected on nearly twice as many jabs 108 to 55. GGG also landed more punches than Canelo in ten of the twelve rounds. Canelo was the slightly more accurate puncher 33 per cent to 31 per cent, but only because GGG threw more punches and Canelo landed four more power shots (114 to 110) than Golovkin.
Both fighters retained their titles with the draw. Golovkin successfully made his nineteenth consecutive middleweight defense, second to future Hall-of-Famer Bernard Hopkins, who made twenty, which he can tie in his next fight. This was GGG's second fight in a row that went the distance after knocking out twenty-three consecutive opponents.
The battle for "Supremacy" was televised on HBO pay-per-view from the sold-out T-Mobile Arena in Las Vegas, Nevada where more than twenty-two thousand fans witnessed an exciting, action-packed middleweight bout that lived up to its hype and then some.
There was not a lot of action in the first three rounds as both fighters tried to feel each other out. Golovkin stalked Canelo around the ring and displayed his patented jab which continued to find its target, while Canelo effectively fought back and landed good counter punches. It appeared that GGG was a bit tense and rigid in the early going which his trainer Abel Sanchez noticed and told him to relax in between rounds.
GGG looked more like himself and much more relax in the fourth as he aggressively trapped Canelo on the ropes and fired off combinations. The fight really picked up in the fifth-round as both fighters landed numerous powerful shots on each other. Golovkin connected on a good overhand right. This fast-paced action continued in the sixth and seventh, as Golovkin out worked Canelo and landed the harder shots in each of these rounds. Canelo fought well for the first minute and then did not do much for the rest of the round. He was also content to lay on the ropes and counter punch GGG while Golovkin pinned him to the corner and unloaded his shots.
Golovkin had his best rounds in the eighth and ninth as he dominated Canelo and landed several hard uppercuts and right hooks. He punished him with numerous powerful shots, while Canelo did not offer much of any offensive return and appeared to tire badly. Canelo; however, turned things around in the next round as he and Golovkin connected on twenty-six power punches apiece as they both desperately tried to knock the other out. Both fighters went all out for the next two rounds with Canelo being a bit more effective as he out worked GGG and landed the harder shots, especially a couple of powerful uppercuts that Golovkin walked through.
Both fighters stated in their post-fight interviews that they want to fight one another in an immediate rematch, which will most likely happen at some point next year, maybe in May, 2018. Canelo has a rematch clause in his contract, while GGG does not. Fight fans would love to see these two top-tiered middleweight boxers go at it again in what would be an even bigger and more anticipated bout than this one to decide once again who is the best middleweight fighter in the world. Golovkin and Canelo would also receive a substantial higher payout than the three and five million dollars, respectively that they obtained from this bout. Hopefully in the rematch, the Nevada Athletic Commission can appoint much more competent judges, so that the winner can be given the correct decision.