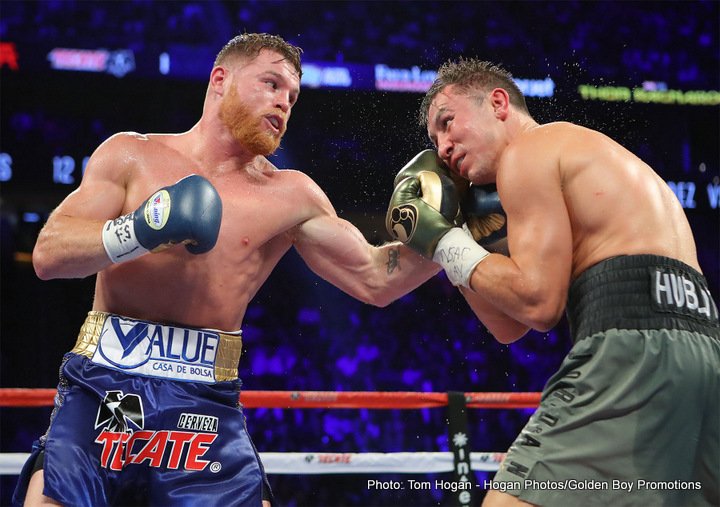 During his own great career, heavyweight legend George Foreman never boxed to a draw, rarely did "Big" George even go the distance such was his incredible punching power. And Foreman told TMZ Sports how the only assured way to win a fight and leave no controversy is to do what he did during his career 68 times – score a knockout.
Foreman said he agrees with the drawn verdict that was handed in at the conclusion of this past Saturday's big Golovkin-Canelo fight. Most people are unhappy with the result, claiming Golovkin deserved a win, but Foreman is not one of them:
"I don't think that was a victory," Foreman said of the middleweight Super Fight. "You look at those judges, and they figured that this guy Canelo was supposed to be knocked out by Triple-G but he couldn't pull it off. The judges were saying, 'We didn't come here to look at this song and dance! Hey, it's a draw.' He didn't get knocked out either. The best way of winning a boxing match is by knockout. The Triple-G man couldn't pull it off and the other guy was scoring points on making him miss. You don't score points by just coming forward. Both guys came into the ring as champions and I would've allowed both to leave as champions."
Foreman makes some good points, even if GGG supporters insist the defending world champ did significantly more than just come forward. It may have been a different fight if GGG had done a whole lot more work to the body, or if Canelo had done so come to that, but was there ever going to be a KO? It's way too early to predict, but plenty of people feel the rematch, if it happens, will also go the distance. Both men have a great chin and unless either man changes his style considerably a second distance fight looks likely.
Currently, bookmakers have GGG as a bigger favourite to win a rematch than he was to win the first encounter. A KO would be nice, from either side, but most people seem to be expecting another great 12 rounds when these two hook up again.