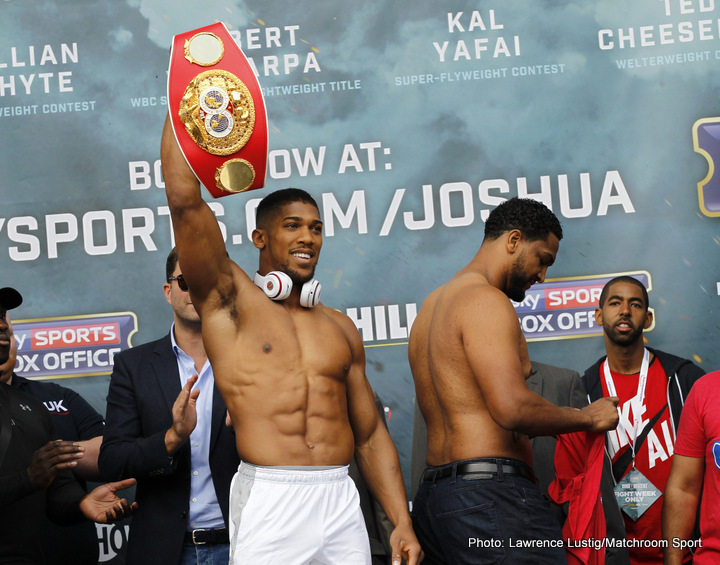 Heavyweight legend George Foreman was a guest of honour in London over the weekend, meeting and greeting those fans of his who were lucky enough to attend. And while he visited London, "Big" George paid Londoner Anthony Joshua, the reigning IBF heavyweight champ, some very big compliments.
Foreman is often guilty of saying nice things to nice people, but the former two-time king of kings does seem to genuinely rate Joshua very highly; this despite AJ being just 17-0(17) as a pro right now.
"When Joshua fights Klitschko it will be the biggest night in boxing for a decade," Foreman told The Evening Standard. "The world will wait for that. There is no match in boxing that would have that much importance. I've seen Joshua perform and he is the real deal. There is no hype about that. He can punch and he has a good stance. He's got the package. Sure, he still hasn't achieved anything like what Lennox Lewis did for Britain. To my mind, Lennox was one of the best five heavyweights of all time. But if Joshua beats Klitschko, he'll really make his name around the world and be champion for the next ten years."
High praise indeed from Foreman, but until we see Joshua tested in a real fire-fight, how can anyone know he is the real deal let alone a future great? Will the Klitschko fight happen (probably) and how much has Klitschko got left? This possible – or probable – fight is certainly a big one, as Foreman says, but even if AJ beats an ageing Klitschko, does this means he will beat the likes of Deontay Wilder, Luis Ortiz and, if/when he returns to the ring, Tyson Fury?
Foreman may have seen things in Joshua that others have not, but in the opinion of some good judges, the jury is still out on Joshua and him becoming a true great. Of course, the praise Foreman has given Joshua is a good thing, and AJ is certain to feel proud when he reads the plaudits he has been given by an all-time great.
Still, ten years is a very, very long time for any fighter to remain at the top. Joshua has made just one successful title defence so far. Let's see how Joshua gets on in defence number-two on December 10 against Eric Molina.