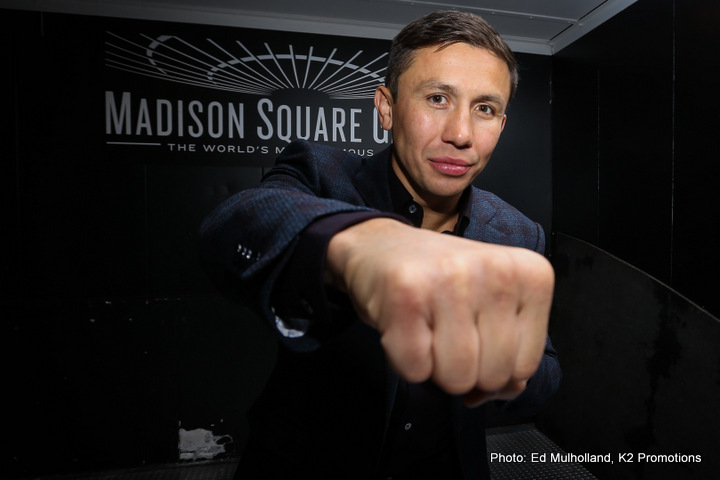 Reigning middleweight king Gennady Golovkin has thus far stood up to every punch he has been hit with, he has beaten every man he has faced at pro level (Canelo Alvarez aside, yet most people feel GGG did more than enough to have won the September Super-Fight that was instead scored as a draw) and he has made an incredible number of title retentions.
But what if Triple-G had to fight this guy! Julian Jackson, AKA, "The Hawk," arguably THE hardest single puncher in middleweight history. GGG has a fine chin, yes, but he has never, ever been tagged by a monster puncher the likes of Jackson. Who would have won this particular Dream Fight – the puncher or the iron chin?
Jackson, who captured major titles at light-middleweight and middleweight (twice) electrified the two weight classes with his kill or be killed style of fighting. Never blessed with a great chin (or, later in his career, 20/20 vision – Jackson was refused a licence to box in the U.K due to his poor eyesight), Jackson instead relied on his fast, accurate hands, his shuddering power and a killer instinct rarely seen today. Make no mistake, despite his proven durability and toughness, GGG would have had a risky, potentially disastrous night against Jackson.
With his wicked power, Jackson went right through top names like Terry Norris, In-Chul Baek, Buster Drayton and Dennis Milton like a hot knife through butter; while his come-from-behind KO over Herol Graham is the stuff of legend. Might Jackson have also tagged Golovkin, perhaps when being way behind on points and ultra-dangerous due to his sense of desperation? Might GGG have become a touch complacent having piled up such a big lead? Might the "crazy" Golovkin have even dropped his hands and dared Jackson to hit him!? It's possible. Of course it's also possible Golovkin's own impressive punching power would have taken out the less reliably-chinned "Hawk."
Later on in his career, Jackson went to war with Gerald McClellan (twice). The first encounter, of May 1993, was a classic slugfest, the return saw "The G Man" emerge as the new monster of the middleweight division. There was absolutely no doubting Jackson's heart and courage; as there is no doubting Golovkin's. This one would have been a classic, of that there seems little to no doubt.
But did Jackson, one of the single hardest punchers of all-time, have enough to have been able to derail Triple-G? Again, talk about a Dream Fight! For what it's worth, I feel a great chin beats a great punch, even if GGG would have had some rough patches in a brutal encounter with this legendary slugger.