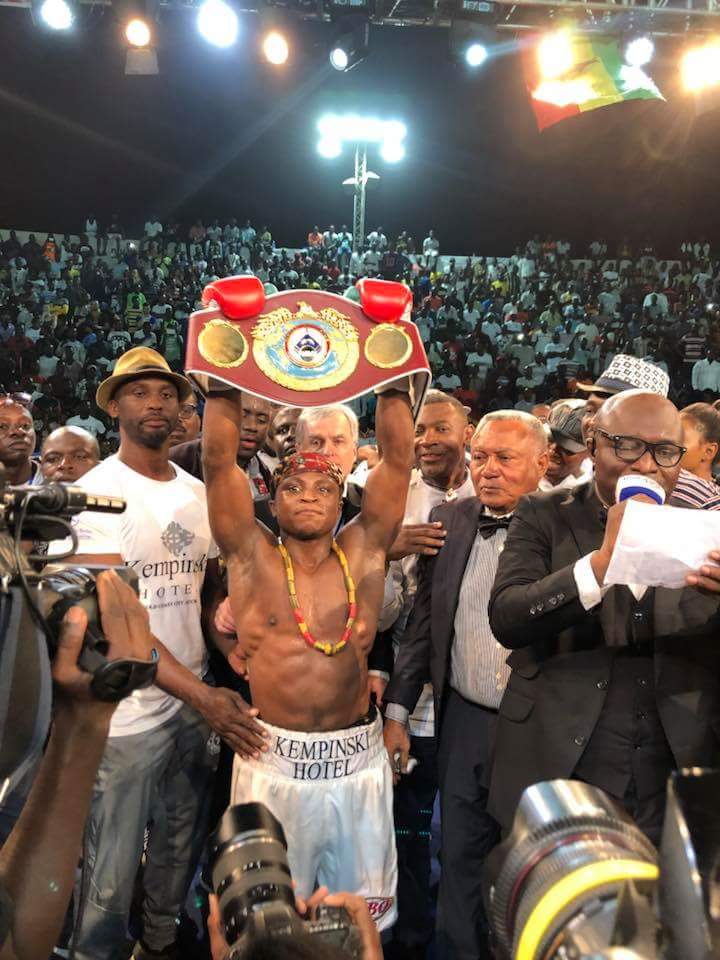 Ghana's Isaac 'Royal Storm' Dogboe put up a dominant show culminating in a round 5 stoppage of Mexican challenger, Cesar Juarez in their clash for the WBO interim world super bantamweight title in Accra on Saturday night.
Undefeated Dogboe improved his unblemished record to 18-0 courtesy the 12th knockout of his rapidly rising professional career whilst condemning Juarez to the 6th defeat of his now 26-fight career (20-6, 15 KOs).
Dogboe went into the fight pledging not just victory but a knockout to boot and the 23 year old Ghanaian wasted no time in making his intentions clear right from the onset, delivering a barrage of punches all over the body and head of the Mexican in the opening seconds, with the fully packed crowd cheering him on.
So much was the dominance that Juarez was sent sprawling to the canvas in round 2, after he was caught by a terrific left uppercut from the highly charged Dogboe. Juarez managed to beat the count of referee Tony Weeks but there was no doubt how dazed and tired he looked.
Round 3 followed the same pattern of dominance from Dogboe but the experience of Juarez began to show as the Mexican appeared to warm his way back into the fight in round 4 by continuously chasing Dogboe though he often met the powerful punches of the young Ghanaian hero.
Juarez in fact, was finally undone in one such circumstance halfway through the 5th round when he walked into a powerful left hook of Dogboe. Such was the power of the punch, it dazed Juarez, pushed him back some five or six steps before he collapsed unto the canvas, even falling on his neck. He appeared lost as he desperately struggled to get back up, just managing to beat the count of the referee once again. But the experienced referee Weeks had no choice than to call off the fight after Juarez continued to walk in his dazed stupor much to the joy of Dogboe and the entire crowd at the hugely attended fight.
Dogboe was consequently crowned the new WBO interim junior featherweight champ and assured of jumping over hitherto number one, Juarez in the world rankings and ever closer to becoming the king of the division.
A match-up against champion, Jesse Magdaleno of the USA is potentially next on the plate for the ever ready Dogboe later this year as he maintains the quest to become Ghana's next world champion and follow in the footsteps of the legendary Azumah Nelson, Ike Quartey and Joshua Clottey, some of Ghana's former world champions who were all at ringside.