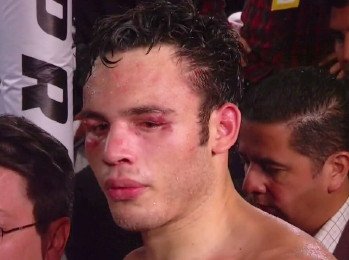 Top Rank promoter Bob Arum is confident that he can put together a mega fight between Julio Cesar Chavez Jr (48-1-1, 32 KO's) and IBF/WBA super middleweight champion Carl Froch (33-2, 24 KOs) for January 24th for the MGM Grand in Las Vegas, Nevada. Arum has been in communication with Froch's promoter Eddie Hearn and his father Barry in working out a deal to get Froch and Chavez Jr into the ring in what promises to be an interesting match-up between two big sluggers.
"I'm convinced we can get it done," Arum said to ESPN's Dan Rafael. "I made a proposal that I don't want to get into but I think it would be acceptable."
The one thing that could potentially get in the way of a Froch-Chavez Jr fight is if Arum tries to get Chavez Jr to agree to an extension with Top Rank as part of the deal for him making the fight, because that's what happened when Arum attempted to match Chavez Jr against WBA middleweight champion Gennady Golovkin for a fight that was supposed to have taken place earlier this month on July 19th. Chavez Jr refused to sign an extension with Top Rank as part of the deal to take the Golovkin fight. As such, the fight failed to happen, and Chavez Jr ended up sitting idle.
Chavez Jr hasn't been all that active lately, as he fought only once in 2013 and once in 2014. One would hope that Chavez Jr will become more active with his career once his contract with Top Rank expires.
Froch recently defeated George Groves by an 8th round knockout last May in a fight that took place in front of 80,000 fans at Wembley Stadium in London, UK. It was a huge, huge success for Froch to both win the fight and to be fighting in front of that many fans.
As popular as Froch is, he really doesn't need to leave the UK for him to continue to make big money. He could easily stay in the UK for his next fight against his IBF mandatory challenger James DeGale, and make big money fighting him. Froch also has the option of fighting Mikkel Kessler in a third fight. Hearn wants to put that fight together possibly in 2015, even though Froch beat Kessler in a convincing manner in their rematch last year in May.