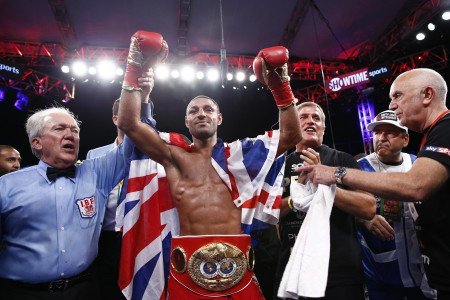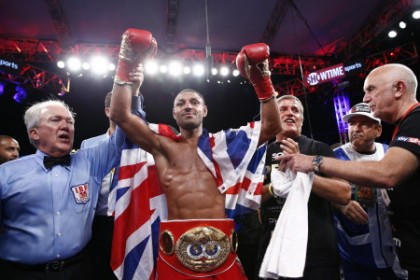 In the latest of his frequent trips to the Garcia Boxing Academy in Oxnard, CA, ES News reporter Elie Seckbach has done a fan Q & A via twitter with head coach Robert Garcia to address various issues – one of which being the possibility of his fighter Brandon Rios (33-2-1, 24ko) facing IBF 147 champion Kell Brook.
Brook fights against countryman Frankie Gavin on May 30th in a voluntary defence of his title following his crushing of mandatory challenger Jo Jo Dan in February. It is a match that has been questioned by some quarters for it's validity, although it's worth remembering that the Dan fight in February was Brooks first since being viciously slashed to the leg with a machete last year on holiday following his title win over Shawn Porter last August and promotional mechanics have certainly had a part to play.
As far as I am aware, through all his media in the UK, promoter Eddie Hearn stated that both Rios and Juan Manuel Marquez (unlikely) were possible summer opponents for Brook – POST Gavin, although it would appear obvious that Rios has been available the entire time for May 30th since his last fight was the blowout of Mike Alvarado in the disappointing end to their trilogy back in January.
Rios' own promoter Bob Arum has also signaled the fight may happen later in the year, recently stating that he has a good working relationship with Hearn and his father Barry – Matchroom Sports founder.
Not known for his impartiality when it comes to Garcia trained fighters, the ever sycophantic Seckbach asked the following fan question from a user called "Good Boy" with a snigger in his latest video that states;
"Eddie Hearn and Carl Froch said on UK TV that Brandon is ducking Kell Brook."
With no context to the question, if it indeed was said in such a way, Garcia was understandably outraged, saying;
"My God?… Motherf*****."
"Brook fu****' – after his (last) fight he fu***** challenges a few names but none of them are available? Brandon WAS available. Brandon IS available. Brandon says OK, I'll take the challenge and then he (Brook) goes and fights somebody he never even mentioned. Somebody that made no sense. So who's ducking who?"
"Why did they do it? It's (The May 30th show) huge over there already. The have Gradovich and Selby already. They already have Linares against their local guy (Kevin Mitchell). And with Brandon vs Kell Brook it would have been a huge fu***** show over there."
"It would have been a PPV show in England. (- It is – on Sky Box Office) but no. Kell Brook is fighting – who is he fighting? – (*screws up his face) Frankie Gavin? Ok, thank you – we're ducking you."
There is no doubt in my mind that even in England, a name like Brandon Rios WOULD be a bigger draw as an opponent for Kell Brook. If you think about it stylistically too, Brooks slick counter punching style and footwork should beat Rios, particularly if the fight was over here – in the Lion's Den so to speak.
Rios, while game, defends with his face and while always entertaining is a come forward brawler who has been in some wars throughout his career. Those fights take their toll. You'd think it would be perfect for Brook.
And it will be. I'm convinced of it. Later in the year.
If you examine the facts, the Frankie Gavin fight also does make sense. In a way.
He had been ordered into an final eliminator for Brooks IBF before the fight was announced – against Tim Bradley. And let's be real. He would have been beaten – soundly – so it makes sense (business wise) for Eddie Hearn to put Gavin in with Brook as a voluntary defence for Kell.
He has options over both fighters and while not the marquee name the fans may have wanted for a Brook defence on such a huge card – Gavin is still well known to UK fans and isn't a total slouch.
He was our only ever world amateur champion after all.
I can understand Garcia being outraged, but he wasn't given all the facts. I'm pretty sure Hearn and Arum will negotiate and put the fight together for the end of the year. Or possibly, if Brook comes through easy against Gavin – sooner.
With Amir Khan still in and out of the frame and everyone at 147 hanging on to be the next name announced for Floyd Mayweather, Kell Brook's future will become a lot clearer after May 30th.
What is for sure is that there are decent fights out there for him.
Thanks for reading
Twitter @Undilutedpoison