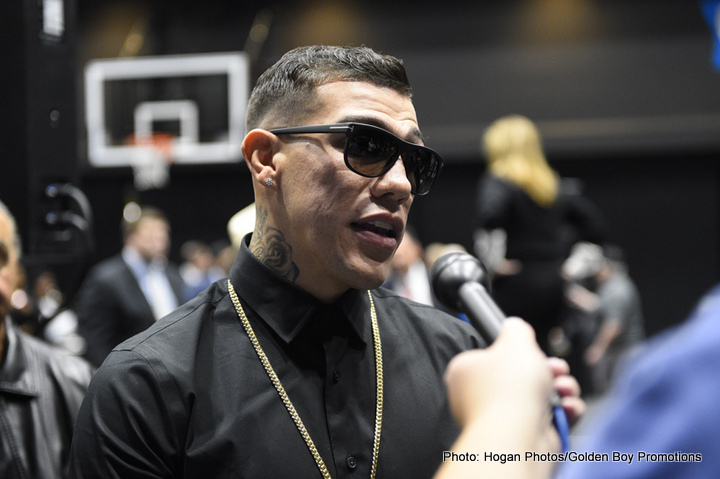 In a FightHype interview with tough fighter Gabriel Rosado, Gabe gave a lot of respect to the efforts of Martin Murray. The basic takeaway of the interview was that he thought if a top fighter could take the gameplan laid down by Murray and his team and execute it better, they could beat Golovkin. Basically the blueprint on beating him was there, it would just take an extraordinary talent to be able to pull it off. Rosado then commented saying that someone like Canelo could give Golovkin problems if a similar strategy was employed.
Gabriel Rosado will be involved in a good bout soon with former Golovkin victim Curtis Stevens, however this fight will not be happening in a boxing ring.
Rosado will return to BKB – Big Knockout Boxing where he beat Brian Vera to take on Stevens. Boxing fans seem to be split on whether BKB is a legitimate form of combat vs traditional boxing, but generally I keep an eye there when a good fight is announced. Personally I am a big fan of Rosado and like to follow his career wherever that takes him, and the nature of BKB seems to favour him vs what he does in the boxing ring.
It wasn't that long ago that we saw Rosado vs Golovkin and that was actually one of the better bouts we have seen Golovkin in. It wasn't an early stoppage as most have been but ended in the seventh due to some severe cuts.
Rosado is known to cut up and those have cost him some big fights. He seemed to be on his way to a comeback vs Peter Quillin for the WBO title when the fight was stopped and since then he has also been cut by Jermell Charlo. Another noteworthy thing about the Golovkin fight was that Rosado was never down. He was also not down against J'Leon Love or Jermell Charlo when they fought. This is worth mentioning as most Golovkin opponents spend more time on their back than standing.
Nevertheless I wish him luck in this fight but hope he is back in the ring soon. He is a good fighter but is rapidly becoming a nobody as his last win hasn't been since 2012.