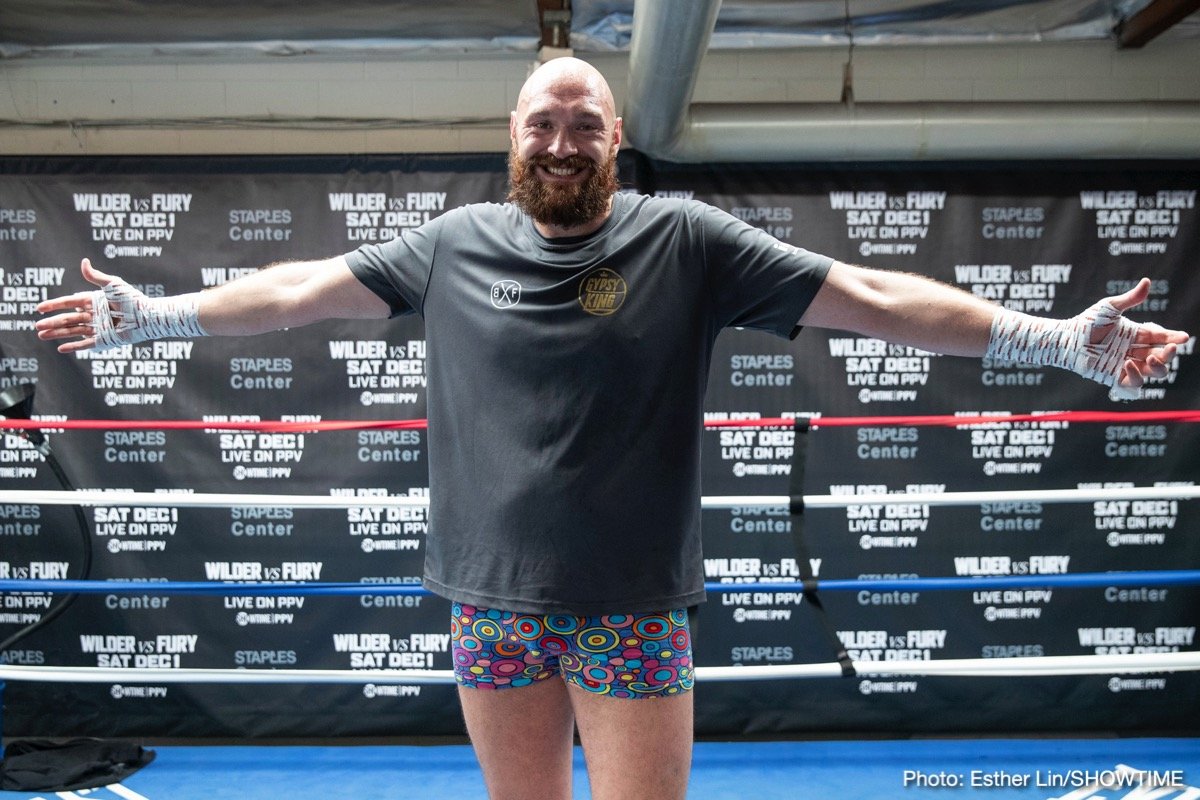 We hoped today, looked forward to even, to see an official announcement of a Tyson Fury/Deontay Wilder rematch. Instead, at the big presser in London, it was announced how Fury has signed a massive deal with ESPN, worth around a staggering 80 million. This is of course great news for Fury, proudly the lineal heavyweight champion, but is it such great news for fight fans?
What will Fury do next? Will he fight Wilder a second time, and if so will this be his next fight, or will Fury box a TBA in the U.S some time in late April or May instead? Wilder is, as we know, aligned with Al Haymon and Premiere Boxing Channel, with the WBC champion's fights going out on Showtime. It's no secret how Haymon and Arum cannot stand one another, so can the two power-brokers who conduct their business in such different ways (Haymon the recluse, Arum very much on centre stage) possibly be expected to work together and co-promote Wilder/Fury II, or any other fights? It seems unlikely.
So what next? If Wilder and Fury do not face one another again next what might happen instead? Fury could face TBA, maybe a fringe contender guy, and Wilder could look at getting his long-waiting WBC mandatory Dominic Breazeale out of the way (thus spoiling Dillian Whyte's plans; Whyte of course is hoping to fight Breazeale himself – in fact the WBC ordered this fight as an interim title bout, but this order was issued when it was assumed by all that Wilder and Fury would clash again next). But what happens if one or both men lose? Will we ever see a rematch of the dramatic December 1st 2018 fight?
The way things are right now is this: Wilder fights for Haymon on Showtime, Fury fights for Frank Warren and Arum on ESPN, and Anthony Joshua fights for Eddie Hearn on DAZN. Have things ever been so complicated, so awkward, in terms of getting these three rival heavyweight champions in the ring together? No.
AJ will fight Jarrell Miller as we know, and we await news of Fury and Wilder's next fights. But don't go expecting them to be hooking up together. Not next anyway. Maybe not ever.
It seems the likelihood of again seeing an undisputed world heavyweight champion is more far-fetched than ever. It also seems as though money is more important than glory and ring accomplishment, at least to most fighters out there today.